Swimming Pool Safety on Holidays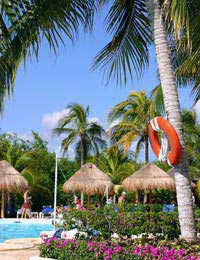 Holiday getaways are meant to give families the opportunity to connect without the stress of daily life. Whether relaxing or adventurous, when we plan a vacation, we expect a time filled with joy and laughter. Most often, that is exactly what we get. Occasionally, however, instead of wonderful memories, tragedy strikes and a family is forever changed.
Recently, a five-year-old boy drowned whilst on holiday with family and friends in Egypt. His grief stricken mother is still searching for answers -- a search that may never give her the peace that she seeks. Although it is impossible to completely guarantee the safety of our children, whether on holiday or at home, there are some steps that can be taken to reduce the risks.
When choosing a holiday resort, don't hesitate to inquire about their safety statistics. Although management may be hesitant to provide you with detailed accident and injury reports, they will usually be willing to give you assurances regarding the specific steps that they have taken to ensure the safety of their patrons.
While laws concerning pool safety vary from area to area, there are some common standards that you should look for. Be certain that properly trained lifeguards are on duty whenever the pool is open and never swim during unnamed pool hours. The difference between life and death in a swimming pool accident can be just a matter of minutes; it is vital that all public pools be supervised by professionals trained in both water rescue and CPR.
Inquire about pool water quality -- bacteria can grow rapidly in water that is not well maintained. Chlorine levels must be kept up to legal standards, and the pH levels should be kept at a good balance between acidity and alkalinity. When pool (or spa) chemicals are not kept at the proper levels, swimmers are at risk for a variety of infections, some serious.
No matter how well-maintained and properly staffed that a resort pool may be, there is no substitute for parental supervision. Set a few ground rules with your children and be insistent that they obey them. If possible, enroll your children in a swimming class before you leave on holiday. Having a few basic skills will help them to remain safe.
Never allow your children -- even older children -- to swim alone. Although pre-teens and teenagers may be confident in their swimming abilities, in the event of an unexpected accident or injury, solo swimmers have no one available to offer assistance. When in the pool, be sure to keep children up to age six within arm's reach. Youngsters can tire easily and tend to panic when they swallow a bit of water; it is important that you are nearby. Older children, if they are capable swimmers, should remain in your line of vision.
Exercise caution when walking on the pool deck, and instruct your children not to run in the immediate vicinity of the pool. Flooring around a swimming pool is often wet and slippery, posing a hazard to both children and adults. If you choose to utilize the tables, chairs, and chaise lounges that most resorts place near the pool, be sure that they are well constructed and placed a safe distance from the water's edge.
Finally, never allow your children to dive into shallow water. Head and spinal injuries, paralysis, and even death can occur from unsafe diving. Although recommendations vary, a general guideline for safe diving depth is twice the height of the diver. Be sure that your children understand that rough-housing and horseplay are inappropriate and dangerous on diving boards or near swimming pools.
Taking your family on a resort holiday should be a fun experience for all. By maintaining a few safety rules, everyone can return home happy, relaxed, and ready to get back to reality.
You might also like...