Questionnaire: Is Your Gap Year Itinerary Safe?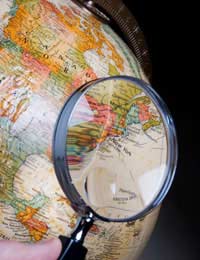 Planning a gap year itinerary often comes down to two main questions: Where would you like to go and where can you afford to go? The question many potential gappers forget to ask themselves is where is it safe to go?
To help you determine if your gap year itinerary is safe we have put together the following questionnaire. Honestly answer each question, then total your "yes" answers and match this number to the explanations below the questions.
1. Have you selected locations recommended by experienced gappers?
2. Have you chosen accommodation registered with local tourist boards?
3. Have you purchased travel insurance with medical cover?
4. Have you checked with the Foreign & Commonwealth Office about travel warnings?
5. Have you located consulates and embassies near your destinations?
6. Have you registered with the Foreign & Commonwealth Office's LOCATE service?
7. Have you been following the news in your destinations?
8. Have you investigated necessary vaccinations for your chosen destinations?
9. Have you investigated an international driver's permit should you need one?
10. Have you confirmed that programmes you are joining are properly insured?
11. Do you have maps of the cities and towns you will be visiting?
12. Have you promised a copy of your confirmed itinerary to a relative or friend?
Is Your Gap Year Itinerary Safe?
"yes" to between zero and four questions
- your gap year itinerary is not necessarily as safe as it could be. You may have selected perfectly safe locations and accommodations, but this is down to luck and not any particular research on your part. At the very least, check with the Foreign & Commonwealth Office about any existing travel warnings and register with their LOCATE service so that they know where you are supposed to be in the event of an emergency. Also speak to returned gappers or invest in a good travel guide so you know what to expect "on the ground" once you begin travelling. Expect the best from your gap year, but don't forget to prepare for the worst just in case.
"yes" to between five and eight questions - your gap year itinerary may be safe. You've likely taken a few steps to make sure that you stay current about the safety situation in your chosen locations, and no doubt you have basic safety sense (buying insurance, purchasing city maps) which will make you feel more confident about your itinerary. Many gappers forget to check out all aspects of their chosen itineraries, however, so don't forget to investigate accommodations or programmes even if they come recommended by other experienced travellers. Remember, something may be cheap or fun, but that doesn't make it safe.
"yes" to nine or more questions - your itinerary is probably safe, though there could still be room for improvement. Review your answers and if you answered "no" to any question, work to reverse this before your trip. If you haven't gotten to a particular stage of planning yet, such as investigating specific accommodation or the need for some sort of driving permit, then keep these safety questions in mind as you prepare. Most importantly, don't forget that safety is something you need to work at each day. If your itinerary changes at all remember to repeat all of your safety steps and update everyone, including the LOCATE service, on your new whereabouts.
You might also like...