Drink Driving Limits in Europe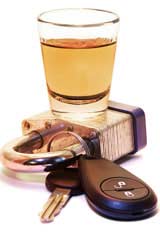 Drinking and driving is never a good idea, period. But it becomes especially bad when you go abroad. Not only are you unfamiliar with the roads and driving customs, but driving on the other side of the road and the different speed limits are experiences that need complete concentration. Those factors all add up. But there's one more to take into consideration - the legal blood alcohol limit for driving. Compared to Britain, most European countries have very low limits, or in some instances absolutely zero tolerance.
Drink driving is measured in blood alcohol, in a certain number of milligrams of alcohol per 100 millilitres of blood. Initially it is measured with a breathalyser test, then a sample of urine, however it can also be checked in the saliva. The general standard in Europe is 0.5 mg per ml, but there are wide variances from country to country.
The Blood Alcohol Levels
0.2 mg per ml– Estonia, Malta, Romania, Slovakia, Czech Republic (see the comment by AAA for some slight clarification/extra detail on the Czech Republic), Hungary
0.3 mg per ml - Serbia. For a new drivers (with drivers licence for beginers), profesional drivers, motorcycle drivers, there is zero tolerance
0.2 mg per ml– Norway, Poland, Sweden
0.4 mg per ml- Lithuania
0.5 mg per ml- Belgium, Bulgaria, Denmark, Germany (Germany is 0.3 if you're in an accident), Finland, France, Greece, Italy, Serbia/Montenegro, Croatia, Latvia, Macedonia, Netherlands, Austria, Portugal, Slovenia, Spain, Turkey, Cyprus (North), Switzerland
0.8 mg per ml– UK, Ireland, Luxembourg, Malta,
0.2 mg per ml Cyprus (South)
What it Means
0.5mg is equivalent to one small beer, so nowhere in Europe is there much tolerance for drinking. Be very aware that there are variances within this framework. Turkey's 0.5 mg limit, only applies to passengerless compact vehicles; otherwise it's 0.0mg. In Germany the 0.5 mg limit applies unless you're picked up for another traffic offence, in which case it drops to 0.3mg; if you're over that, it'll be a criminal offence. If you're in a fatal accident in Germany and over the limit, you could serve five years.
If you're a new driver (i.e. one who passed the test within the last two years) a number of countries have lower alcohol limits, like 0.1mg in Spain. In the same way, some countries also give higher penalties for those found with a much higher concentration of alcohol in the blood.
In many parts of Europe, the police don't need 'probable cause' to stop your vehicle and breathalyze you. They're permitted to make random stops and checks, so you could easily find yourself stopped unexpectedly.
Don't expect leniency if convicted of drink-driving abroad. The penalties differ greatly from country to country, but at the very least you're going to receive a large fine. You can, for example, receive a six month sentence in the UK and Ireland, and anywhere from one day to three years in Luxembourg. Drink-driving convictions in France can bring jail terms of two months to two years, and in Finland up to three months. In all cases your licence will be suspended or you'll be banned from driving in the country.
How This Affects You
If you're banned from driving in one country, that doesn't stop you
Driving Elsewhere in Europe
. Attempting to return to that country driving a vehicle, though, will lead to your arrest. However, according to the AA, drink driving convictions abroad do not affect your UK licence. They claim that even if your licence is confiscated abroad, the foreign government will simply send it to the DVLA, which will then return it to you without penalty!
But that knowledge doesn't change the fact that you simply shouldn't drink and drive. There's no way to do it with complete safety. You risk a conviction, fine and a great deal more. Enjoy your nights out on your European holiday, by all means. But walk or take a taxi; the other way simply isn't worth it. Also, be aware that by 2010, the legal limit throughout Europe will probably be 0.2mg.
You might also like...
Hi. Just want to let anyone interested in BAL's, that from 1st of January 2015 in Lithuania this level is --> 0.0 mg per ml.
Slowmotion000
- 30-Jan-16 @ 6:00 PM
The limit in Ireland is 0.5. Your article is incorrect.
Scotland is 0.5 not 0.8. Some countries in the UK are still at 0.8
Stevie Boy
- 4-Dec-14 @ 11:38 PM
the limit in Scotland will be 0.5 from December 2014 well done Scotland for tightening up the drink drive limit Now lets hope the rest of the UK follow on quickly
danny
- 25-Oct-14 @ 10:07 AM
Thanks AAA for your comments. We've made a note in the article itself.
SafeTravel
- 11-Jun-14 @ 11:53 AM
Hi, there is NO allowed blood alcohol level in the Czech Republic! There is zero tolerance. Please fix it. However if the breath analyzer value is between 0 - 0.24 mg per ml and you DON'T admin under any circumstances you have been drinking alcohol and there is no other proof of it, then it is not considered as sufficient proof of drinking. In such case, you license may be temporarily suspended, you can be ordered to give blood sample and the case can be forwarded to an administrative processing, where it must be discarded anyway. Funny wasting of money and time, isn't it? So, again, in Czech Republic, in case you have less than 0.24 mg in you breath, follow any orders you will be given (including giving the blood sample), but NEVER ADMIT you have been drinking or simply refuse to give any official explanation (it's your right).
AAA
- 11-Jun-14 @ 10:24 AM
I was pulled over last week in Spain (in a road block) and breathalysed and was told the limit is 0.25. Fortunately I was under this but your post apparently update in February 2014 states 0.5 is Spain. Please could you update this as this is misleading and dangerous. Thank you.
Ali
- 28-Mar-14 @ 4:56 PM
There's zero tolerance in Hungary. Please correct.
kukucs2
- 6-Feb-14 @ 12:23 PM
In Slovakia is actualy zero tolerance. If a driver breathes over 1 promile, it's criminal offence.
Hector
- 3-Jun-13 @ 8:51 AM
Really useful information for travellers to Europe
Marvis
- 7-Mar-13 @ 8:36 PM
The alcoholemy limit in Romania is 0. Actually, the 0.2 would get you a fine and a suspended licence, over 0.8 you will get prison. Please cleanup...
10kur
- 27-Feb-13 @ 4:57 AM
Your comment about German limits are only partially correct. 0.3 is actually the limit. You do not need to have committed an offence but you may be able to appeal the 'crime' and get it overturned. I was driving with a colleague (I was passenger) and he was randomly stopped as is quite normal in Munich.He registered 0.41 on the first test and 0.39 at the follow up test in the police station (so he told me).They took his keys off him ( i was there as I had no other way home) and he had to collect them in the morning, after giving a negative breath sample.He was given 3 points, 275 euro fine and a 1 month ban.At 0.5 things get very serious maybe a year ban and a lot of points.... you are correct that in an accident which is your fault or shared fault with ANY alcohol results in seriousfine and ban
ian
- 2-Oct-12 @ 10:07 PM
Can i drive in the UK while on a drink driving ban in Germany, I was not on holiday in Germany, i was residing there, but still a british citizen.
jimmy
- 21-Sep-12 @ 9:21 AM
Hi, it says on the page headed "Drink Driving Limits in Europe" (on which it states it was last updated on 18 September 2012.) that the dring driving limit in Ireland is 0.8 mg per ml.This is incorrect and has been changed for some time, it is now .5 mg per ml with lowere limits for learner and professional drivers.
lryan
- 20-Sep-12 @ 3:23 PM
If i lose my uk licence for dd in the uk can i drive in the uk on my cyprus licence.
skipper
- 19-Aug-12 @ 6:02 PM
When I was young (20 to 22) and a new member of the RAF stationed in the UK, I had associates that on occasion I would to argue with about driving drunk.Example, "!I was so drunk last night, I cannot remember driving back to camp".As a keen motorcyclist then who had had two friends invalided crippled out of the service after being hit by drunken car-drivers. Since then in my life (I am now 74) I have seen so much misery caused by human beings who are unable to refuse a drink and now we also have drugs addicts to contend with.Going out to drink alcohol with the intention of driving afterwards is a premediated crime.Anyone caught over the limits should be banned for life with the photos of the driver publicised in all bars and public bars.The misery they leave behind after a serious accident with their selfishnesscan only be describes as criminal.Now I read that the EU is considering zero limits for all drivers as in some Eastern European countries.So the masses suffer for the crimes of the few.
Brian
- 1-Aug-12 @ 5:48 PM