Safe Camping and Caravanning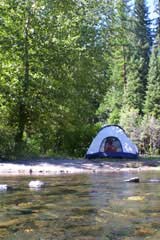 Modern camping and caravanning can be as comfortable as a hotel or self-catering cottage. It is great way to relax and enjoy the Great Outdoors and have the freedom and independence to take your accommodation wherever the fancy takes you.
There are a vast assortment of tents and caravans to choose from but they fall into three main categories: large stand-up-in tents with all mod cons; trailer tents; caravans. The first is usually packed in a small trailer and towed and the second two are designed for towing. The small tent carried on a backpack is outside the scope of this article.Prevention is always better than cure and being aware of possible hazards and how to avoid them go a long way to ensure that the camping or caravan holiday is trouble free.
Towing
It is important that the towing vehicle is adequate for the job. You should check that the engine is adequate for towing. Check the brakes are powerful enough to bring the trailer and the car to a halt safely. Also check that the weight of the loaded trailer does not exceed the towing capacity of the vehicle (this can generally be found in the car's handbook and should be on the VIN plate). The Caravan Club recommend, as a rule of thumb, that the weight of the trailer/caravan should not exceed 85% of the kerb weight of the towing vehicle provided it does not exceed the vehicles towing limit.Remember that the handling characteristics of the towing vehicle will change particularly the stopping distances and cornering. It helps to know the limitations of your vehicle when hitched to a trailer caravan and attending a towing course is a good way of obtaining this knowledge.
Know how to attach the trailer/caravan to the towing vehicle safely. Ensure that stabilisers, breakaway cables and lighting cables are all attached. Make certain that the trailer/caravan is in a roadworthy condition. The load should be evenly distributed and secure as shifting weight can cause dangerous instability.
Choosing your pitch
Choosing where to park your caravan or pitch your tent is not just how convenient it is or how wonderful the view. There are a number of safety considerations to take account of too.
All tents and caravans should be at least 6 metres from each other to avoid fire spreading.
That flat area beside the river may look inviting but should the river flood it could be very dangerous.
Avoid pitching under or near tall trees. They can attract lightning and the tree or parts of it may be blown onto the tent/caravan in high winds.
Fire
A tent can be engulfed in flames in 60 seconds and a caravan only takes a few minutes longer so it is important to understand some elementary fire safety tips.
All fabrics should and construction materials have approved fire retardants and the relevant safety marks.
In caravans make sure all electrical appliances and those with a naked flame are fixed and that the wiring and piping is fixed. In tents make sure that these are stable and well away from tent walls.
Portable appliances should be avoided as they are easily knocked over in a limited space or they can fall over if the tent/caravan is rocked by high winds. When leaving the tent or caravan or going to bed turn off all appliances especially those with a naked flame. In a caravan have the wiring checked by a qualified electrician frequently.
Ensure the tent/caravan is equipped with fire extinguisher, fire blanket and smoke alarms. Know your escape routes some of which may not be through the door (e.g. Be prepared to cut your way out of a tent).
In the event of a fire getting yourself and others out is the first priority. Fire spreads alarmingly quickly in tents and caravans despite flame retardant materials.
Gas
Bottled gas is highly flammable and can cause an explosion or fire if it leaks. Care should be taken to ensure the valves are working, that appliances using gas are regularly serviced and pipe work is maintained. Never try to fix it yourself.One of the waste products of gas when it is burnt is Carbon Monoxide which is lethal. Inadequate ventilation and poor appliance maintenance are the main causes of carbon monoxide build up.
If you smell gas or suspect a leak turn off the appliance and the main cylinder valve, open windows and doors and do not use electrical equipment, a mobile phone or a naked flame.
Personal safety and security
Follow manufacturers guidelines when pitching a tent or parking a caravan or trailer tent. Pay particular attention to hooking and unhooking and manoeuvring a caravan as it is heavy and can damage muscles and joints if not done correctly.
Fit wheel clamps to a caravan to prevent it being stolen and ensure all windows and doors are locked when it is left. Valuables are very vulnerable in tents so lock them in the car.
You might also like...