Insuring your Car for European Travel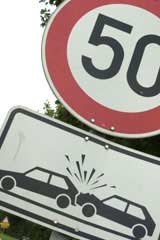 One thing you must do before taking your car to the Continent is to make sure you're properly insured for travel there. It goes without saying that that even at home your car must legally carry a minimum of third party coverage, which means that in the event of an accident any damage you do to another vehicle is covered (although not the damage to your own), along with fire or theft of your own car (minus an initial amount from your own pocket).
Insurance requirements
You need at least third party coverage for every country in Europe. Some places, however, insist on a "Green Card," which is a document recognised throughout Europe (except for Russia). Whilst it doesn't provide insurance itself, it acts as international confirmation that you possess this minimum coverage. It can be obtained from your insurance company, usually for a small fee, although some may say it's not necessary as the back of your insurance certificate states you have this coverage.
Third Party Coverage
Proof of third party insurance alone is accepted as minimum coverage in the following countries:
Ireland, Belarus, Belgium, France, Austria, Cyprus (both parts, although North Cyprus does not accept the Green Card), Denmark, Estonia, Finland, Montenegro, Germany, Hungary, Netherlands, Iceland, San Marino, Luxembourg, Latvia, Lithuania, Ukraine, Macedonia, Italy, Malta, Moldova, Norway, Czech Republic, Poland, Russia (Green Card not accepted), Slovakia, Slovenia, Spain, Greece, Sweden, Switzerland, Lichtenstein, Turkey.
These countries require a Green Card, confirming at least third party insurance. If you try to enter without one, you'll generally be required to buy short-term insurance at the border:
Bosnia/ Herzegovina, Bulgaria, Gibraltar, Romania, Serbia/ Montenegro (although the Green Card is not accepted in Kosovo; you must obtain third party insurance at the border).
What It Means
Essentially, this means it's easy to take your car to most of Europe without obtaining extra documents. These are minimum requirements, and it's always advisable to have more insurance than that if possible. If you're renting a car in Europe, third party insurance is covered in the rental fee. However, most agencies will suggest you take out a collision damage waiver (CDW), which covers damage to the rental vehicle in case of an accident. It's not mandatory in most countries (except Italy), and it boosts the daily vehicle cost, but it might be worthwhile for peace of mind on unfamiliar roads.
Those with comprehensive coverage for their cars should arrange an extension with their insurers for the European countries they plan on visiting. It's easily arranged, and some will provide it at no extra cost.
Other Items
Insurance companies might suggest taking out bail bond insurance. In most instances this is unnecessary, but if you're driving in Spain it's worth considering, as vehicles are sometimes confiscated there after an accident.
European breakdown insurance is also very advisable, and probably a lot cheaper than the towing and repairs you might incur otherwise. Make sure you carry your insurance documents in the car, along with your original vehicle registration document and your driving licence (both paper and photo parts), and ensure that you have a GB sticker on the back of your car unless you have the newer European plates. You'll be asked for them all at each border crossing.
Enjoy your driving in Europe. Be alert, be safe, and above all, be covered!
You might also like...
Can anyone please tell me where i can get temporary car insurance for driving across Albania and Montenegro?
AlexS
- 3-Jul-13 @ 6:21 PM
do i need any extra car insurance to drive in Serbia or would my europian cover provide all the cover i need?
lulybella
- 22-Jul-12 @ 4:26 PM
Can anyone please tell me where i can get temporary car insurance for driving to Serbia ? they do not accept green cards from the UK. I do not want to pay for the Mickey Mouse insurance that they offer at the border crossings. Thank you
mesrb
- 20-Jul-12 @ 12:35 PM
The information about the green card is not correct.It is not nessecary to proof a green card in Bulgaria and Romania,because they are part of EU and you are insured with your UK policy there.
Danibg
- 28-Jun-11 @ 9:45 PM