Overcoming Your Fear Of Air Travel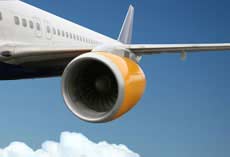 We all look forward to our holidays, that chance to take a break from home and to relax in the sun. Well, with just a few simple preparations, you can ensure it's a blissful time, carefree and golden. Air travel and security has been tightened considerably over the past few years but providing you know the regulations, there's no reason why any additional safety precautions at the airport should present you with any problems or delays or spoil the enjoyment of your holiday.
Scared Of The Plane?
Simply reaching your destination can be a huge obstacle if you're one of the many with a fear of flying, where the mere prospect of air travel can leave you shaking. However, these days there's plenty you can do to counter the anxiety besides grit your teeth and dig your nails into your partner's palm during takeoff. A number of airlines, like BA, work with groups to develop treatments that help passengers who suffer from this debilitating phobia. There are other treatments available, too - you could see a therapist or psychologist, have yourself hypnotised, or even take an online course; some claim a staggering success rate of almost 100 per cent!
If that's not for you, there's the old standby of going to your doctor, explaining the problem you have with air travel and asking for a prescription of a mild relaxant. Obviously it's not a long-term solution, but it will take the edge off your fear for the duration of the flight, leaving you calm but still able to focus and function. Used moderately, it can help, but be aware that drinking - whether before or after you board the plane - is a very bad idea. Not only can alcohol feed into your fear, increasing it, but it will also leave you dehydrated and hung over - hardly the best way to begin your holiday.
At The Airport
Now you've figured out how you're going to survive the air travel, the next question is what to use for luggage. Forget those old suitcases and holdalls in the attic; these days you need something light but strong, able to take the knocks of baggage crews and the abuse of the carousel. For the sake of your back, buy something with wheels, and preferably a telescopic handle; you'll be grateful as soon as you walk with it. You might also consider adding something to make your luggage more easily recognisable. Pink or yellow tape can make it stand out as you wait at the carousel - and stop you having to check everything that goes by.
Make sure you know your airline's regulations about luggage weight and dimensions. These vary greatly, so be careful or you might end up paying horrific excess baggage charges. Also, the goalposts regarding carry-on pieces are constantly shifting - usually downsizing on both weight and size. If you really must take carry-on, check beforehand that you're within the guidelines; it beats a nasty shock at the check-in counter.
These days, of course, when it comes to air travel and regulations there's a long, long list of items you're not allowed to take on a plane. Go through the security area of any airport and you can see bins crammed to overflowing with confiscated goods. So what should you leave at home? There are the blindingly obvious things like guns, knives, explosives, chemicals, fireworks and flammable liquids. But even seemingly the seemingly innocuous - a penknife or a pair of nail scissors, for example - can end up triggering an alarm. When you go through security (allowing plenty of time before your flight, of course), be sure all your coins, keys, and metallic items (including your mobile phone) are off your person. Finally, it goes without saying that you should never leave your luggage unattended.
If, like so many, you leave your car in long-term parking, keep the ticket somewhere you can find it easily, and make a note of exactly where you left your vehicle. Nothing can kill the euphoria of a holiday more effectively than having to search all over a rainy car park at 1 a.m.
House Secure?
Now you have everything you need for departure, there's only one thing left to consider - making sure your house is secure whilst you're away. Check all the windows are closed and the doors locked before you go, and all appliances switched off. Cancel all deliveries, including the mail, so there are no obvious signs for thieves. You might even want to use a timer on lights in the living room and bedroom, to give the illusion of occupancy; it's a great way to discourage burglars. Leave a key with a family member, friend or neighbour, and ask them to keep an eye on the place, checking it every couple of days (and perhaps pick up bread and milk the day you're due back).
And once you've done all that? Just sit back and enjoy your holiday.
You might also like...