First Aid: What to Keep in Your Travel Kit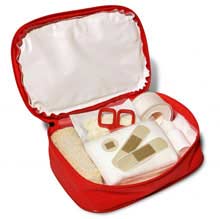 When you hit the road, all you want to think of is freedom and good times. But wherever you go, accidents can happen. By simply carrying a first aid kit, and keeping a cool head, you can take care of most emergencies that might occur.
What to Take - The Basics
What you carry in your first aid kit can depend on where you're going; you won't need snakebite venom in the Arctic, for example. Think about the places you'll be visiting before you pack.That said, there are a fair number of basics that should in your kit, and you should always make sure it's fully stocked on them before you leave home. Aspirin, acetaminophen or ibuprofen (remember children's aspirin, too, if you're travelling with kids) is a necessity for everything from headache to fever and inflammation.
Carry a thermometer - either a strip thermometer or one that works in the ear is probably best and easiest to use. Although you should have insect repellent and sunscreen with you anyway, put some in your kit, just in case, and use them before exposure, not after! Simple things like a roll of antacid tablets, anti-diarrhoeal pills and allergy medicine of some kind can prevent a lot of discomfort, while ipecac can be a lifesaver if someone swallows something bad; just a little causes them to vomit. Keep medicated ointment on hand for cuts, painful sunburn and insect bites, whilst a little bit of moleskin can relieve the pain of blisters on the feet.
Obviously, it wouldn't be a first aid kit without bandages, and with a selection of plasters of various sizes and shapes, some gauze, a stretch bandage and adhesive tape, you'll have that covered. Add in a sachet of vinegar from a fast food restaurant in case of jellyfish bites (pour it on the skin after removing the sting), Dramamine for anyone with motion sickness, baby wipes, tissues, cotton balls, some tweezers for splinters and a small pair of scissors, and you're prepared for most things. Remember a first aid book, so you know what to do, and you'll be set.
Finally, make sure you either have a mobile phone, charged up and with credit, to call for help if you need it, or a calling card with plenty of time left on it, and some change. That way, in the event of an emergency you can't handle, you can call for help and stay on the line.
Familiarising yourself with the basics of first aid is a plus, too. Courses are easy to find, often free, and knowing CPR can save someone's life.
Think Ahead
Give consideration to your destination. Many possible problems can be defused before leaving home. If you're going abroad, for instance, have any immunizations needed for that country, and take out health insurance. Visit the dentist and have those fillings done before you go - nothing's worse than toothache and trying to find someone to cure it! If you or any of your party takes prescription medications, ensure you have an adequate supply before leaving (obtain a letter from the GP saying the person is taking the medication and carry it through customs).
We're used to being able to drink water straight from the tap. In many countries, however, the water is a haven for all manner of bacteria. If you're visiting a place like that, drink bottled water, but also have water purification tablets with you. Malaria, too, is a pervasive problem in many parts of the world. If you're going to a region that suffers widely from it, take malaria tablets and mosquito netting. Should your journey take you into the wilderness, take syringes and needles, an IV cannula (a flexible tube use to insert medication or withdraw fluids), and skin closure strips.
For the Cold
The cold weather poses its own medical dilemmas. Obviously, you can jettison some items from your kit. But toss in several re-usable hand warmers, for instance. Chocolate bars provide a jolt of energy and warmth and can come in useful, so add a few, as well as a pack of waterproof matches, a metal can and some tinder cubes (to melt snow). A knife can perform all manner of functions, as long as it's used responsibly.
Of course, you can buy pre-packaged first aid kits, and they certainly have their place. But remember, the needs of each traveller are different; there's no one-size-fits-all. Buying piece-by-piece means that you'll have exactly what you want, you'll probably also save money in the process. If the number of items seems a little daunting, don't be worried. It's really not that much at all, and once you've bought them, they won't often need replacing. Your kit might take up a little room on the trip, but the first time you need it you'll understand just how worthwhile it is.
You might also like...