Serious Accident or Injury Abroad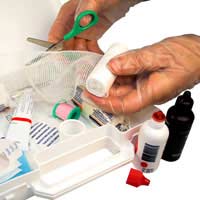 Accidents happen everywhere, and every holiday destination comes with it's own risks to your health and safety. But of course these risks shouldn't put you off travel all together. Instead, you can do a great deal to prepare for emergency circumstances as well as planning for how to cope when faced with a serious accident or injury.
Preparing for Emergency Circumstances Abroad
A free European Health Insurance Card will ensure that you can access state-provided medical care while in the European Union.
Private health insurance and travel insurance will help protect you from large bills for medical care or travel-related expenses should there be unexpected circumstances on your trip.
Leave a copy of your passport, travel itinerary and financial accounts at home to allow others to help you in the event of an emergency.
Check travel advice issued by the Foreign and Commonwealth Office to help you avoid areas with known risks.
If you are greatly concerned about the medical care you could receive in the event of an injury abroad you can also check the NHS' country guides, as well as keeping copies of your current doctors/prescriptions ready should you need them faxed to you.Packing a good supply of prescription medications and a small first aid kit should also allow you to feel more confident.
Coping In the Event of An Accident Or Injury Abroad
If are injured while abroad, remain calm. Call local emergency medical personnel and request an English-speaking representative or translator if required. If your private medical or travel insurance offers a helpline you might call them for advice as well, and if your accident or injury warrants government involvement then contact the closest embassy or consulate.
Travel with:
Contact information for the government embassy
Your passport details
Insurance details and contact numbers
Contact numbers for a friend or relative who can help out if needed
Details of the names of any prescription medicines you take
A small first aid kit
Keep a record of all actions taken following an accident or injury, as well as all reports and receipts related to the events.
Pursuing A Claim Regarding An Accident or Injury Abroad
Depending upon the circumstances and nature of an accident or injury suffered while abroad you might be able to claim compensation in respect of medical care, rehabilitation, lost wages, distress or on-going support services. If you want to pursue a claim, keep copies of every report and receipt related to the emergency abroad. Keep all insurance documents and details of communications you have had with organisations at home or abroad relating to the incident. Many solicitors offer legal services related to accidents or injuries abroad, so seek professional advice about your specific case.
There is no way to guarantee an accident or injury-free trip, but you can think about how you would react to a serious accident or injury abroad before you ever leave home. Take steps to prepare for an emergency, think through how you would cope when faced with a serious incident and get organised in case you wish to pursue a claim.
You might also like...