Travelling in Retirement: Health and Fitness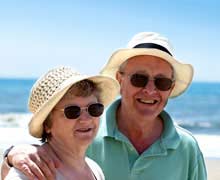 They're called the Golden Years, and it's an apt name. You're free of work, the kids have gone, and you finally have the time and money to indulge yourself and see all those places you've dreamed about. But to get the most from those trips, you need to keep yourself healthy. A few simple points can help.
Before Your Trip
Go and see your doctor. Whilst it's advisable to have an annual physical anyway, make sure you're examined before a big trip. Sit down and discuss your prescription medicines with your G.P. Make sure, first of all, that they're legal where you're travelling, and that you have an ample supply for the time you're away (keep a copy of the prescription with you when you go, too). Also, visit your dentist and have any necessary work completed; there's nothing worse than toothache when you're on the road.
Once you have a clean bill of health you can make real preparations for your holiday. Exercise should be part of everyone's daily routine. That doesn't have to mean a full gym workout; simply walking for a mile or so each day, or even gardening for half an hour, will help. If your holiday is going to be a more strenuous - a safari or hill walking, for example, think ahead and take the time to get yourself in shape. Do it gradually; never over-exert yourself.
On The Go
Take it easy is always a good motto. You're on holiday, so there's no need to see how far you can push yourself; it's not an endurance test. Make sure you enjoy each day, and plug some exercise into your routine. You can do it anywhere, even on a cruise ship - just walk around the decks for a while.
If your journey involves a long flight, consider wearing some special deep vein thrombosis socks. Follow the simple exercises you can do on the plane (you'll find them in the airline magazine). Walk around the cabin, too, and stretch regularly.
Keep to a sensible diet. If you have specific food restrictions, don't completely ignore them just because you're on holiday. Carry antacid tablets with you in case of over-indulgence, as well as anti-diarrheal and laxatives. Make them part of a basic first aid kit, along with bandages, pain killers, plasters, medicated ointment, sunscreen and insect repellent. That way you'll be prepared for most small emergencies you might encounter.
In hot climates, it's very easy to dehydrate quickly. Use alcohol only in moderation, and carry a full water bottle with you, drinking from it regularly during the day.
Make sure you have adequate health and travel insurance. That might seem like a no-brainer, but many people like to take the gamble. You might win - but if you lose it can be financially disastrous. It's better to spend a little extra and enjoy the peace of mind.
Keep It Up
Just because your holiday's over, that's no excuse to stop exercising! There'll be another, and rather than have to begin again, why not keep up those healthy habits you've begun and stay in shape? Consult your doctor first, of course, and design a programme that's right for you. You body will thank you for it, and you'll notice the difference too, feeling more alert every day.
Growing older can be a state of mind as much as of body. If you take care of the physical, you might well find yourself feeling thirty all over again!
You might also like...