Sailing Safety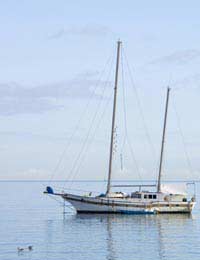 Getting out to sea on a boat can be a great way to spend part of a holiday - indeed, for some it can be an entire holiday. But the water can be unforgiving of those who ignore safety procedures (they don't say the sea is a harsh mistress for nothing).
It doesn't matter whether you're one of two or three or a small boat or on a larger sailing ship, you need to obey the rules to be safe. Whoever you're sailing with should have experience and training and know not only what they're doing on the water, but also be able to show you enough of the basics that you don't feel lost, even on a short trip.
Before you cast off, the ideal thing would be to take a basic sailing course. However, for those just going on a friend's boat, or as part of the crew on something bigger, that probably won't happen. But you should be shown (and practice) the basic knots used, and how the sails work, along with the proper names for the different parts of the boat and its equipment. It's also best if you know how to swim. Even though you'll be in a life jacket, you'll feel more confident in the water and be able to help in your own rescue in case you end up overboard.
Important Safety Points
There are some basics that apply whether you're in a sailing boat or a power boat. They're simple, primary precautions.
You need to wear a life jacket at all times when you're on the water, properly closed and a good fit for you. The boat should be adequate equipped with ropes and life belts in case someone falls overboard, and you should be told what to do in the event of someone falling into the water (whoever's in charge should use the Anderson turn, the Williamson turn, or the Scharnow turn, and one person should always be watching the person in the water).
Under no circumstances should any of you drink alcohol before sailing or while on the boat. Just like drinking and driving, drinking and sailing don't mix.
Have sunglasses with you. When the sun's out it can be very bright out on the water, and you need to be able to overcome the glare. You should also apply sunscreen very liberally - being out there is an easy way to get sunburn.
On The Water
It's vital that whoever's in charge of the boat knows the right of way rules for boats- port tack always gives way to starboard tack, the windward boat always gives way to the leeward boat, and generally power gives way to sail - and the correct procedure for docking.
Before you go out, always make sure you know the current weather forecast. Just because it's sunny and calm now doesn't mean it'll be that way in a couple of hours.
Don't ever jump off the boat to swim. Always stay on the boat unless it's docked somewhere. You never know what might happen, either to you, or others on the boat. Also, never indulge in horseplay.
Even if you're an experienced sailor, never sail alone.
The boat should have a first aid kit with adequate supplies. It doesn't need to be huge, but enough to handle most basic problems that might arise. There should also be a fire extinguisher and a knife that can be used to cut the rigging if necessary.
Obey these basic safety rules and you'll have a wonderful time on the waves!
You might also like...