Diving With Medical Conditions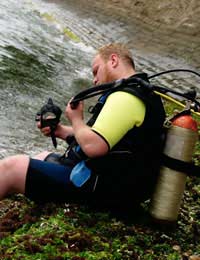 Diving is an activity which, whilst being exhilarating, can also be dangerous and you need to be in good physical shape if you intend to participate. Not only that, you must also be aware of any existing medical conditions you might have which can be extremely precarious when diving.
Medical Certificates
All UK diving clubs require you to obtain a certified medical certificate before you can go diving or even learn to dive at one of their clubs. In order to obtain this, you need to complete a questionnaire. This asks you if you have any existing medical condition, specifically relating to any of the following:
Diabetes
Asthma
Epilepsy
Any problems relating to your heart, lungs or ears
It also asks you to put down if you have received any kind of medical treatment or visited your GP within the past year for any other kind of examination.
What if I Have a Medical Condition?
It doesn't necessarily mean that because you may have an existing medical condition that you cannot go diving but it will mean that you'll need to contact an approved medical referee of the UK Sport Diving Medical Committee (UKSMDC) to further assess you. It may be that after a brief chat over the phone, they can still pass you as fit to dive when you'll then be granted your diving medical certificate which you need to renew each year.
However, it might well require you to undergo further tests to assess things like your breathing function and heart condition and you'll need to pay for the cost to have this done. If, following the tests, you're given the all clear, you'll be issued with your Certificate of Fitness to Dive.
Other Medical Issues
The health of your ears is of crucial importance when you go diving because of the effects that diving at depth can have on them. Therefore, you shouldn't dive if you have a perforated eardrum, grommets or even if you have an ear infection. This however, doesn't apply if you might have ruptured your ear some time ago but it has now healed fully. In this instance, you'd still be able to dive.
It's also recommended that you don't dive if you are pregnant. If you have gone diving and then discover that you were pregnant at the time you went, you should mention that to your GP as they might want you to have a scan just to check that things are OK. Once you have given birth, it's advised that you don't go diving until around 6 weeks after your baby is born. If you are breastfeeding, current medical opinion would suggest that it is quite safe to carry on diving.
Never think that an accident will not happen to you. You may find that there will be plenty of opportunity for you to go diving when you're abroad on holiday as many diving schools may not be as strictly regulated as they are in the UK. Always err on the side of caution and don't be tempted to go diving if you have any concerns about your physical health. Don't forget, snorkelling can be good fun too and is far safer than scuba diving.
Nevertheless, even where that is concerned, you need to be confident that you're healthy enough to participate. No water sports are completely risk free and if you're not in good physical shape, a seemingly innocuous situation can soon get out of hand if you get into difficulty in the water due to a health related problem.
You might also like...
i'm a man age 48 and i have been living with a single lung since i was 7 years old. I'm interested in getting the open water cert for scuba diving but i'm not sure if i'mphysically able to do it. Please advice. tks
chris
- 22-Feb-12 @ 7:05 AM
Can a person with hypertension/ High blood pressure who is under controlled condition due to taking medication daily be able to go for diving course? Any medical certificate or test needed to go through before attending diving course?
Mel
- 10-Apr-11 @ 2:57 PM