Cruise and Ferry Safety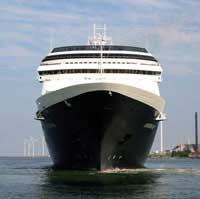 Going on a cruise (or even on a ferry) is one of the most luxurious forms of travel. All you have to do is sit back and let someone else do the work. It's true that by and large they experience very few problems. Yet it never hurts to take a few extra precautions to ensure you have a safe, carefree trip.
Before You Go
Even before you book your cruise, take the time to check the ship's report card. You can find it
here
and it covers the vessel's health and cleanliness, vital matters to consider before parting with a lot of money. If you're taking a ferry, check online to see if there have been reports regarding safety. Be very aware that ferry regulations vary greatly throughout the world; what's considered adequate in some regions would be unacceptable elsewhere.
Make sure you have an adequate supply of any prescriptions, and pack them in your carry-on luggage. Keep a copy of the prescription with you. Obtain all the vaccinations you need for your trip (the cruise line will advise you on what's necessary) and bring the certificate with you. You might want to check that your ship has a doctor on board (most do, but not all). Put together a travel first aid kit, and pack plenty of sunscreen and insect repellent.
Do you get seasick? If so, a cruise probably isn't the best holiday for you, and you should probably avoid sea travel of any kind. But if you don't know, it's best to take precautions. Buy some travel sickness tablets to take along, or perhaps a wrist pressure band that seems to be an answer for many people.
On Board the Cruise Ship
On a cruise, the chances are the purser will keep your passport. That's fine, but make sure you take it with you whenever you go ashore. You should leave all your valuables with the purser, especially important documents like return travel tickets. Keep as little as possible in your stateroom safe - it's not as secure as you think.
A cruise can be a feast afloat, but watch what you eat; your allergies travel with you. Just because the food's constantly on offer, you don't have to spend all your time eating. Enjoy everything, but in moderation (did you bring antacid?) - and the same applies to the alcohol.
In hot, sunny weather, don't sit outside sunbathing for too long. Water reflects sunlight, and you burn far faster. Use sun block with a high SPF if you sit out. Better yet, keep yourself lightly covered, including a hat.
Remember, too, that there's a gulf between staff and passengers on a cruise. Be friendly, but beware of becoming too close. If you get an invitation to staff quarters, politely decline it. Don't walk along dark passageways at night. Should an incident occur, report it to the purser immediately.
On Board the Ferry
If the ferry you're boarding seems suspiciously overcrowded, then the chances are that it is. The best policy is to disembark, talk to a company official, and wait for a vessel that's not as full.
Travelling with a car? Then don't leave anything valuable in it. Your vehicle will be unattended long enough for thieves to break in. Don't give them the chance to walk away with anything important. It goes without saying that you should keep all documents and valuables on your person at all times.
Whatever kind of ship you're on, don't go on deck in bad weather. Even when the weather's fine, be very careful. Don't play - and certainly never allow children to play - by the railing. After all, a cruise ship is a huge vessel. Tumbling over is like falling off a small skyscraper. Finally, if you see someone go overboard, raise the alarm immediately.
Going Ashore
Those ports of call for cruise ships are exotic and fun. But they can all have their own little booby traps. Keep all your documentation safe with you - a money belt under your clothes is a good idea. Watch out for pickpockets and purse stealers; take precautions to make sure they don't walk off with your goods. Don't wander too far off. It can be easy to get lost and mugged.
Sample the local cuisine by all means. However, remember that the street vendors might not keep the same hygiene standards as you, and never drink the tap water (that includes ice cubes in drinks). Sip bottled drinks only.
Walking barefoot on a tropical beach sounds like one of the most romantic things you can do. Before you slip off your shoes, however, consider keeping some sandals on; there's nothing charming about pulling painful stings out of your flesh.
Virtually all cruises go off without a hitch, and the same is true of ferry trips all across the globe. Use a modicum of common sense and you'll have a wonderful time!
You might also like...
yull y olryoyrklklfhhlkhl f khkl
uyld
- 11-Mar-14 @ 3:33 PM