Safari Holiday Safety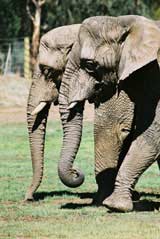 Even in today's well-travelled world, a safari holiday is one of the most exotic things you can do. It puts you right up against nature, close to the kind of animals you won't find at home unless you visit the zoo. It can make for the holiday of a lifetime - if it's done right.
The Right Safari for You
For most people, Africa is the safari destination of choice (although you can go and see tigers in India). In quite a number of countries, tourism is a major component of the economy, and safaris are big business. South Africa, Botswana, Kenya, Namibia, Zimbabwe, Mozambique and others offer time on safaris, game lodges and game preserves. The days of the hunter have mostly passed, but there's more joy to be had in plenty of good photographs anyway. Before you even think of booking, however, check the political conditions in the country. Any reputable travel agent will be able to advise you.
Safaris aren't generally static holidays, but take you to several places within the country, offering a mix of scenic tourism and animals. Many operators offer safari tours. They can provide you with itineraries and details, but don't expect to spend all your time in the lap of luxury. If you want that, try a game lodge or reserve.
Preparations
You'll be doing quite a bit of walking, so getting yourself in trim beforehand is a good idea. Buy stout walking shoes to take with you (shoes, not trainers), and break them in. you don't need to go on forced marches, but a mile or so every day for a few weeks will leave you feeling more toned and ready.
Buy light cotton clothing - long-sleeved to foil the insects. Shorts and skirts are good for daytimes, long trousers or jeans for the cooler evenings. A hat is a vital part of your safari wardrobe, so don't forget it. Daytime temperatures will be hot, but nights can quickly grow cold, so take a fleece to keep you warm in the evening. One thing - don't buy white clothes. They make you more visible to the animals (not good when you want to blend into the scenery), and you'll find them dirty in no time!
In terms of toiletries, you'll need sunblock (preferably with a high SPF ) , sunglasses, insect repellent, moisturiser, and lip salve, and you should also put antiseptic cream and anti-malaria pills in your luggage - a very basic first aid kit wouldn't go amiss.
It shouldn't have to be said, but bring your binoculars, your camera (video and/or still), plenty of film (or if it's digital, a smart card or cards with ample free space) and batteries.
You'll be responsible for you own health insurance, so make sure you're adequately protected. How much to buy is always open to debate, but don't skimp. Better to have it and not need it than come home horrendously in debt. If you're under a doctor's care, make sure you have enough of your medication to last the entire holiday, and carry a copy of your prescription with you. Finally, get travel insurance. In this instance, it's vital. Obtain it before you leave home, because you won't be able to travel in Africa without it.
Out on Safari
The real trick is not to take too much with you. Some recommendations from safari operators seem quite restrictive, such as a small bag, weighing no more than 12 kilos, a sleeping bag and small pillow and daypack. Many safaris will supply the sleeping bag. But there's a reason behind it all. That's because the luggage has to fit inside the safari vehicles, and space is obviously limited.
Understandably, you should also carry a money belt under your clothes for traveller's cheques (make a list of the numbers and keep it separately), cash, travel documents and passports.
On some safaris you'll be camping, so be prepared for that. In remote areas, facilities like showers will be primitive, and water will be precious. You'll be asked not to waste it, and that includes your water bottle. Other than drinking, use water sparingly. Of course, at the lodges, there's more luxury, and hot and cold running water in the rooms. The trade off is that you're not quite as up close and personal with nature.
Safari Safety
Always do what the guide tells you, without question. Don't go wandering off from viewpoints alone, and never tease or corner wild animals; that's simply asking for trouble. Finally, if you do go for a walk, wear good shoes, socks, and long trousers. Chances are scorpions and spiders wouldn't bother you anyway, but why take chances? Use some common sense, plan ahead, and you'll have a great time, then come home with some wonderful memories.
You might also like...