Questionnaire: How Safe Are You in Water on Holiday?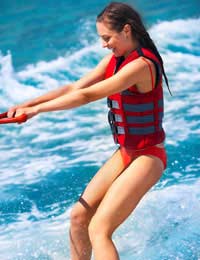 It's easy to get so excited about being on holiday that you end up taking risks you'd never take at home, especially when it comes to water. Just because you're on holiday however, doesn't mean that you should forget about water safety, in fact it means that you should increase your awareness of water and it's potential dangers.
Take the Water Safety Quiz
To help you keep water safety at the forefront of your mind we've put together the questionnaire below. Simply answer "yes" or "no" to each question, then total your answers to determine how safe you are in water on holiday.
Have you ever taken formal swimming lessons?
Are you aware of your swimming strengths and weaknesses?
Are you aware of the strengths and weaknesses of other members of your group?
Do you know where to find information about water warnings in your holiday spot?
Do you always make sure to swim with a buddy, or at least a buddy who will watch you in the water?
Do you only swim in designated areas?
Do you always supervise children when they are in the water?
Do you avoid swimming after drinking alcohol?
Do you always check for depth and any potential obstructions before diving into water?
Do you understand, and know how to deal with, rip tides/currents?
Do you designate an adult to remain vigilant around water at social activities?
Would you be willing to alert authorities immediately if a child goes missing near water?
How Safe Are You In Water On Holiday?
Count up the number of yes answers you scored and check out what the results mean below:
1 to 4 Yes Answers
If you answered "yes" to between one and four questions then you are not very safe in water on holiday. It would be in your best interest, and the interest of all members of your holiday group, to take a refresher swimming course and/or water safety course immediately. Your local council will likely have water safety tips and information on swimming lessons, as may the Red Cross. The Royal Society for the Prevention of Accidents is another place to look for further information on water safety. But whatever you decide, act quickly so that you can rest easy knowing you are doing all you can to keep yourself and others safe when you go on holiday.
5 to 8 Yes Answers
If you answered "yes" to between five and eight questions then you are somewhat safe in water on holiday. You most likely know the basics of water safety but don't always worry about remaining vigilant while in or around water. If this is the case, then make sure you swim in supervised areas so that you also have the skills of trained lifeguards to supplement your own water safety skills. However, don't think that just because there are others around you can give up all of your water safety responsibilities. Any time you are in or around water you must remain aware of potential dangers.
9 or More Yes Answers
If you answered "yes" to nine or more questions then you are usually safe in water on holiday. But there is always room for improvement when it comes to water safety. Making just one wrong choice, or taking your eye off of a child or swimming buddy for just a few seconds, can have deadly results when it comes to water. It's likely that you have a very solid knowledge of water safety and a good background with swimming in both pools and oceans. If this is the case then just remember to use what you know at all times so that you can be confident that you are doing everything you can to keep everyone safe.
You might also like...