Staying Safe in a B&B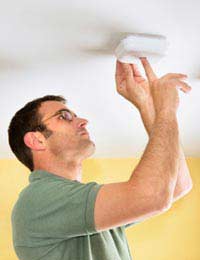 Bed and breakfasts, more commonly known as B&Bs, are a type of accommodation which offer guests a bedroom and place at the breakfast table in a private home. Sometimes B&Bs are also known as guest houses, and may be considered budget options for travellers given that they tend provide great value for less money than other accommodation options in the area. While most B&Bs are perfectly safe, there are things guests can do to safeguard themselves and their valuables during their stays. Selecting only listed B&Bs, staying in rooms with locks, looking for working smoke alarms, understanding house rules and listening to your instincts will all help you stay safe in a B&B.
Selecting Listed B&Bs
It may be hard to research a B&B's full commercial history while you are travelling, but you can increase your chances of staying safe by selecting a B&B that is listed somewhere. Choosing to stay in a B&B which has had a write-up in a newspaper or guidebook, been reviewed online or been listed in an accommodation directory are all ways to increase the likelihood that the B&B is known to provide good service and conform to appropriate safety guidelines. Staying in B&Bs which have won awards (so long as you can verify the award and/or awarding body), or are certified by a tourism body are other great ways of finding B&Bs in which you can feel comfortable and safe.
Staying In Rooms With Locks
Perhaps the most obvious means of staying safe in a B&B is to stay only in rooms with locks. If a room does not have a lock, how can you be sure that others will not enter without your permission? A B&B may charge a small "key fee" when handing out keys to the bedroom and/or front doors, but this fee should be refunded when the keys are returned at the end of the stay. Consider it a small price to pay for the piece of mind that no one else should be wandering into your room while you are a registered guest.
Looking for Working Smoke Alarms
Another key feature of staying safe in a B&B is to make sure that the accommodation has working smoke alarms. Testing them out yourself may be a bit over the top, but simply viewing them (including one in your bedroom) and asking the owners if they work or when they last time they were tested should be enough to ease your mind. To really make sure you feel safe in a B&B, also be sure to view fire/emergency evacuation plans so you know the best route to safety should you need it.
Understanding House Rules
As private residences, B&Bs often operate "house rules" to minimise disruption to both the family and guests. Sometimes these rules include a curfew after which guests will not be allowed in. If you stay at a B&B, make sure you know what is expected of you regarding curfews and entering the house at night so that you never find yourself inadvertently locked out. B&Bs may also operate communal safes or lock-boxes for valuables instead of offering one in each bedroom. Ask about who has access to these items, and when, before leaving any valuables which may become accessible to far more people than you would have liked.
Listening To Your Instincts
At the end of the day, B&Bs are private homes and you may or may not get a good feeling about them. Listen to your instincts. Perhaps you find it difficult to get on with the owner, or you see questionable food preparation practices or just you just don't like the look of the property/room/other guests. As the old saying goes, "better safe than sorry" so listen to your instincts and if they are giving you a warning, heed it.
Bed and breakfasts are a popular type of accommodation and the best are warm, welcoming and just like being at home. Unfortunately there are some safety concerns when it comes to B&Bs, so keep yourself safe by selecting only listed B&Bs, staying only in rooms with locks, looking for working smoke alarms, understanding the house rules and listening to your instincts.
You might also like...