Hostel and Youth Hostelling Safety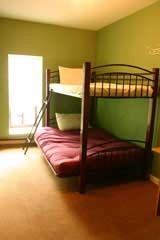 For many years, youth hostelling has been a good, cheap way to see the country, or even the world. You might not enjoy all the amenities of a four-star hotel, but you're certain of a warm, dry bed and a meal at a bargain price. But simply knowing a few things can improve your youth hostel holiday.
Before You Leave Home
The first thing to do is join the Youth Hostel Association in your country. That not only lets you stay at youth hostels all over the world, but brings other concessions, like lower-priced travel - always a bonus when you're on a budget (you can also purchase a Hostelling International card or individual "welcome" stamps when you use a hostel).
Plan your trip and book ahead, especially if you're going during the summer. The demand for beds is highest during this period, so secure one ahead of time. The easiest way is online, through one of the International Booking Centres, or by phone or fax.
Be very aware of how much you've packed. Pare it to a minimum. That bulging backpack might look good in the living room, but after you've been carrying it for a few days you'll wish you'd left a lot at home. Think about what you really need.
Buy travel and health insurance. You might be in the prime of your life, but accidents can still happen to anyone, anywhere, and being safe is much better than being sorry.
Don't carry a lot of cash. Take most of your money in traveller's cheques, converting as you need. Make a note of the serial numbers, and keep that separate (consider leaving a second copy with a friend or relative). Buy a money belt for all your documents and valuables and wear it under your clothes.
On The Road
Check in with people regularly. It can be a phone call or an e-mail from a cyber café. But it lets your family know you're safe and well and stops them worrying.
The sleeping arrangements in the hostels are usually single-sex dormitories. That means they're going to be louder and more crowded than home. It's the price you pay for a cheap bed. But what does it mean in terms of security? The hostels guarantee the safety of both people and property, and they have an excellent record. However, never trust to history and luck. Make a note of where the exits are, in case of fire. Keep your valuables with you at all times. If there's anything especially important, entrust it to the head of the hostel for safekeeping (and obtain a receipt) - but remember to collect it before you leave!
Carry a first aid kit in your pack for small emergencies, with plasters, bandages, sunscreen, insect repellent, and tablets for diarrhea and stomach ache, along with some chocolate or high energy bars.
Many city hostels remain open until 01:00 or 02:00. That doesn't mean you're welcome if you take advantage and roll in drunk in the wee hours. Keep everything in moderation, and with consideration for others. Drink a lot of water to keep yourself hydrated.
Out of The City
If your travels are taking you away from urban areas, make sure you have matches, a knife, a whistle, flashlight, and a tarp, as well as a compass and a good, detailed map. Be aware of where you're walking, and watch out for animals, snakes and plants like poison oak. Expect to cover fewer miles between hostels. Try not to travel alone, so you have a partner in case of problems. Should you realise you're lost, don't panic. Look for landmarks, and check your map and compass. Don't move until you have a strong idea of where you are. If you really are lost, put out a distress signal.
A Few Extra Tips
It's worthwhile to find a little extra room for a small roll of duct tape. It's versatile, and can do anything from covering a hole in your back to securing a splint. Invest in a phone card for whatever country you're in. They're usually cheap, and mean you don't have to go searching for change to make calls. Wear good walking shoes, and make sure you dry them every night. Powder your feet every night, and keep a pair of dry socks in your backpack.
The hostels can tell you a lot about the area where you're staying: listen and learn, and follow the advice. The people who run the hostels have your welfare at heart. If you have any questions or concerns about the hostel, talk to the manager.
See the country, see the world, and enjoy your time away. Millions of people have used youth hostels with no problems. By following the advice above, you can too!
You might also like...