Child Safe Holiday Accommodation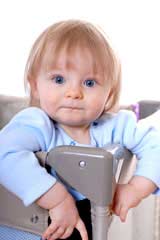 When you go on holiday with your family, the idea of child-safe accommodation probably isn't uppermost in your mind. You're more concerned with somewhere to stay, be it a hotel, B&B, holiday rental or caravan. But there are some simple things you can do to make sure that wherever you're staying becomes as child-safe as your own home.
Before You Book
Find out as much as you can about the place you're considering. Ask questions and look for reviews online, not only the property itself, but also its facilities. Does it have a pool, for instance? If so, is there a lifeguard, and is it securely fenced to prevent children wandering and tumbling into the water? Discover everything you can about the location. Is it on a busy road? If the property's on top of a cliff, is the drop well-fenced? As far as possible, eliminate everywhere that doesn't meet those standards.
What you need obviously depends on the age of your children. The younger they are, the more you'll need to keep them secure. But whatever their ages, before you leave home, pack a first aid kit with, insect repellent, sun block, plasters, bandages, Calpol and Calprofen or equivalent, a thermometer (fevers happen on holiday too!), and a gel cold pack. If any of your children take medications, make sure you have enough for your time away, and if you're travelling abroad, take a copy of the prescription.
Staying in a Hotel or B&B
Family rooms are a good idea. You might not have privacy, but you keep your kids close. If they're under the age of 10, insist on a family room. As soon as you're all settled, look for the fire exits and plan your escape in case of an emergency. If something does happen, don't panic. Don't stop to gather your belongings. Instead, just lead everyone out calmly, using the stairs, not the lift.
If you have young children, invest in some electrical socket covers for your room. In your own country you can buy them before you travel. Abroad you might have to hunt to find them, depending on where you are, but it's worth the effort. Keep all electrical cords against the wall and away from young limbs.
Hotels will provide cots, but examine them thoroughly, making sure the sides are firm and secure and that the mattress is a tight fit in the cot. Lay the baby on its back, and keep the cot well clear of any cords, wires or objects the infant might be able to reach.
Windows can be a problem. Check that they're secure. If you have a balcony, never let your children out on it unsupervised. In fact, unless it's very secure with a stout surround, don't let them use it at all.
Older children might want to explore the hotel or search for a nearby shop. Don't let them wander off alone. Not only is it easy to become lost in strange places, they're very vulnerable to snatchers and predators. Always accompany them. If they want to use the pool, stay with them. Non-swimmers should always wear floatation devices; stay within one pace of them in the water.
Eating in restaurants is one of the greatest pleasures of a holiday. But if your children suffer from any type of food allergies, you need to be especially vigilant. Staff will usually be helpful if you explain the situation, and most places should be able to accommodate your needs. When ordering, however, steer clear of any items that might potentially cause problems.
Bed and breakfast places offer a cheaper alternative to hotels. At the same time, the fact that they're often converted houses poses its own dangers. There are stairs without gates, dangerous electrical sockets and insecure windows.
Renting a Cottage or Caravan
Some holiday rentals will announce whether they're child-safe. Obviously, if possible, look for one that is. Talking to the renters will give you a good idea.
Childproofing a rental cottage or caravan can be a chore, but it's a worthwhile one. Buy and use socket guards. With young children, bring an expandable stair gate and install it. Keep trailing cords and wires out of the way, and ensure the television set is secure and not liable to be tipped onto the floor by a child. Caravans are easier, but the same rules apply. Of course, don't let the kids touch hot surfaces like stoves. Finally, just as you would anywhere else, never let your children go exploring alone.
To keep your kids safe wherever you're staying takes a little thought, some preparation and effort. But the peace of mind it brings on your holiday is worth every minute.
You might also like...