Safety Tips for Photographers While Travelling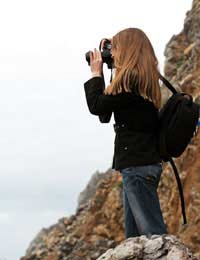 When you're travelling and wanting to take pictures, there are several things you need to keep in mind at all times, and the main one - of course - is your own safety. Obviously, your camera is important, too, but that can be replaced - you can't. Your safety is paramount. A lot of the tips here are simply common sense, but all of them are designed to make sure you get home safely - and hopefully with the shots you wanted.
Be Aware of Your Surroundings
When you're in a foreign country, or even somewhere in your own country that you don't know, you don't have the local knowledge to be aware of what's a bad or dangerous area. You might have gone out walking, looking for scenes that would make good pictures, and not given any thought to where you are. You need to keep alert, keep your senses sharp. You could be somewhere that will put you at the mercy of thieves, or possibly where you can be attacked by animals. Before you go out, ask some questions and do a little research! It could make a huge difference.
It's a maxim that applies to road safety, too. The perfect shot might be from the middle of the road. You glance left and see nothing coming, step out - only to be hit by a car. Remember, in most countries the traffic goes the other way. Stay aware of that, check several times before you walk; it could save your life.
A good camera case is essential, but it's a great help if you have one that doesn't seem to advertise the fact that you're walking round with an expensive camera. Keep it plain and simple, if possible. Keep the camera on the front of your body, where you can see it, not slung over your back where it's just a magnet for thieves. If you have gear in other bags - lenses, or even film - keep them closed tight, and also on the front of your body. The less obtrusive your equipment, the safer it will be.
That doesn't mean you can forget about it. Make sure your insurance covers your camera and other equipment, and only take along what you need for that trip, rather than everything. Apart from anything else, your hands and body will thank you!
Breakages
Although your camera case shouldn't stand out, it should be strong. Almost inevitably, at some point you're going to drop it, so you want something that can withstand life's bumps and drops, something well-padded and secure. Some cameras do have shockproof casings, but many still don't, so you need to take precautions, and always remember to return the camera to the case when you're not using it.
Personal Safety
In the event of a mugging - and they done happen - don't try and fight to hold on to your camera. Let it go, even though you'll probably never see it again. It's not worth your life, and in many parts of the globe, life is cheap. As long as it's insured, all you've lost are the pictures you've taken, and you're worth a lot more than that.
You might also like...