Cold Weather Travel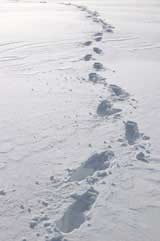 So you're going where it's cold. Not just a tad chilly or nippy, but nose-numbingly, achingly freezing. Some people thrive on that kind of weather, but even if you're not one of them, there are things you can do to make the trip a little easier - and warmer.
Preparing for your Trip
It seems ridiculously obvious, but make sure you're dressed for the climate. An insulated, hooded coat, parka style, isn't just a good idea - it's a necessity. Buy something that doesn't absorb moisture. The popularity of outdoor wear and technological advances like Thinsulate mean that this can be very lightweight but still toasty.
You're also going to need strong, waterproof boots. Again, those don't have to be the clodhoppers of yesteryear; in fact, the lighter they are, the more easily you'll be able to walk. But make sure they fit well, trying them on with the socks - a good, thick pair! - you'll normally be wearing under them. Break them in before your journey; the last thing you want is the misery of blisters as you travel.
Invest in appropriate clothes - thermal underwear, sweaters, tee shirts, heavy trousers and, of course, some good gloves (not mittens), and a balaclava. You might resent the expense initially, but you'll be grateful when you're out there in the bitter wind chill.
Out in the Cold
Your mother would say it: before you head out into the cold, dress warmly! Wear several layers of clothes to help trap the heat closer to your body. Keep your gloves on outside at all times to avoid chilblains, and keeping your head covered will cut down tremendously on the body's heat loss.
However many layers you put on, though, the simple fact is that the cold will eventually reach you. Don't push yourself too far. Once you start feeling the temperature, go back inside and warm up.
Any activity in the cold burns up calories at a rapid rate, and they need to be replaced. Don't worry if you eat larger meals than normal; they're vital for your body. But make sure they're well balanced, with plenty of carbohydrates and protein for energy. Warm drinks - preferably caffeine-free and non-alcoholic - will hit the spot when you come back in, but try not to gulp them. Instead, take small sips, and keep yourself well hydrated.
There are ice hotels, and if that's your choice, you're a brave soul. Most people, however, will prefer something a little hotter. However, be careful. When you come in from the cold, you don't need a room that's raging hot. Warm up gradually; it's much better for your body.
If you're staying somewhere cold, be certain your room is well insulated, so it will retain heat during the night. Dry yourself completely before going outside, and don't put on wet clothing or boots; they'll just freeze, leaving you very uncomfortable.
If You Get Too Cold
Being in the cold does pose risks for exposure, such as frostbite and hypothermia. Children are especially susceptible to these, so keep a close eye on them. Frostbite usually affects the extremities, such as the fingers or nose. If you suspect someone's frostbitten, don't rub the skin with snow! Instead bring the victim indoors and use warm water on the frostbite. It usually takes about 20-40 minutes for the skin to soften.
Hypothermia occurs when the body temperature drops, and it can be extremely dangerous. If it occurs, get the person inside, strip off any wet clothing, and insulate them with blankets, making sure you also cover the head, handling the victim very gently indeed.
Always treat the cold with respect. It's not your enemy, but at the same time, if you take it lightly, it can turn around and bite you hard! With some preparation, a healthy dose of common sense and some care, you can survive the bracing weather. You might even find you enjoy it!
You might also like...