Gap Year Finance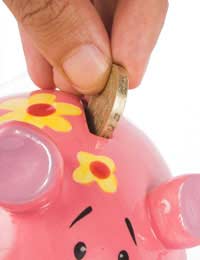 Going abroad for your gap year? Then the first thing you need to do is make sure your finances are in order before you travel. They're the key to making sure your time away goes smoothly and you're not making constant, frantic calls home to your parents - something they'll appreciate as well!
Bank Accounts
Before you travel you'll be saving money and it's important to find a good savings account that pays the highest interest. As a general rule, Internet accounts pay the best interest. But beware of rates that are boosted by a bonus that might run out midway through your trip - you'll only be left with a poor interest rate. Another great advantage of Internet banks is that you can access them from anywhere and move money around as you need it. Remember too that you can earn over £5,000 without paying tax. If you know you'll be making less than this, fill in form R85 at your bank so the interest can be credited to your account without tax deducted.
You should also investigate current accounts carefully before opening one. Again, Internet banks have some good deals, paying relatively good levels of interest after tax. But that shouldn't be your only consideration. One of your best friends when you travel will be your debit card, and you should be aware of the charges levied by most banks to use them abroad. It's often 2% to use a cash machine abroad, with a minimum of £2. Add onto that the charge many banks make (usually 2.75%) when changing foreign currency into sterling, and you're losing almost 5% of your cash! Look for accounts that don't have these charges (and they do exist) to make the most of your money.
Credit Cards
You'll need a credit card for your trip, handy for those emergencies that crop up. The problem, of course, is that most of them charge interest on the balance owed. The best way to eliminate that is by setting up a direct debit to pay the monthly balance in full each month. If you can find a card that doesn't charge interest, then use a direct debit to pay the minimum monthly balance (most cards now allow you to check spending and set up payments online, giving you more flexibility). One thing you should never do is take out cash using your credit card. Doing it means you'll not only pay a high cash advance fee, but you'll also be charged interest (generally at an elevated rate) from the date of the transaction.
Travel Insurance
Travel insurance is vital for your gap year, but make sure it's the right kind. These days there's specific gap year insurance (conventional travel insurance only covers for up to 31 days per trip), for those constantly on the move. But you should ensure the medical coverage is high enough, just in case, and if you have plans that include hazardous sports, tell your insurer; it may involve a higher premium payment. Always have copies of your policy and contact numbers for the insurer with you, and if you receive treatment abroad, keep receipts as well as a doctor's letter stating what was wrong with you and how you were treated. If you do requite treatment, try and get it pre-authorised through a call to your insurer. This will greatly ease the bureaucratic flow later!
Working Abroad
Many travellers want to work whilst on their travels to keep the money coming in, and simply to experience what real life is like in another country. However, you should be aware of the requirements. Some countries require that you have specific visas if you're going to work there. Become familiar with the requirements for the places you'll be visiting, and if you need a visa, apply for it before you travel. You might also want to contact HM Revenue and Customs Centre for Non-Residents on their helpline (0845 070 0040) to understand what your tax situation will be.
Do you take cash or travellers' cheques with you? Obviously, you'll need some cash, and if you're going to change currency, look for somewhere that doesn't charge commission, like the Post Office. Travellers' cheques and pre-paid cards cost money to buy and use, but can be replaced if stolen, unlike cash.
You might also like...