Gap Year Travel Safety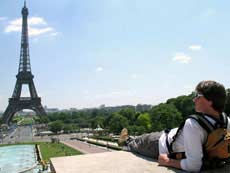 The gap year, that twelve months between school and university, has become a commonplace in recent years. It's a period you can use to work and gain experience, or travel and see the world, broadening your outlook on life. If you choose to go abroad, it can be a wonderful adventure. But a few precautions can make everything go smoothly.
Preparing for your Trip
The first thing to do, after deciding where to go, is to make sure you have enough money for the trip, or be sure someone (like your parents!) will supply it. Make a very realistic budget for the time you'll be gone, then add half as much again. That not only allows for variances - things inevitably cost more than you expect - but also emergencies. You should also allow for insurance; it won't be cheap, but if you need it, it'll be worth every penny of the premium.
Check out employment opportunities where you're going. It might well be possible to combine work and pleasure and defray costs. However, make sure the job actually exists - don't go on a faint promise!
Find out what you need for your destination in terms of visas and vaccinations, and make sure you obtain them well in advance. It's worth looking at rail and bus passes, especially if your trip is going to take you through several countries. Also, decide where you're going to be staying. If you'll be constantly on the move, youth hostels are a good bet. If you plan on investigating a single city for several months, then renting a place - or a house share - can save you plenty of money and give you more exposure to the daily culture.
Invest in a good guide book. No matter where you're going, there's bound to be an authoritative volume on the place. Study it thoroughly, and use it for planning a rough itinerary. You don't have to stick to it religiously, but it stops you just wandering aimlessly!
Think about what you need to take with you. Pare it down to a bare minimum, then cut that down even further. Good lightweight rain gear is always a must, as is a good pair of walking shoes, and take clothes appropriate for the climate. Buy a good money belt for your cash and valuables, and wear it under your clothes. Put most of your money into traveller's cheques, and keep a note of the serial numbers (leave one copy with your parents, and carry the other with you). If possible, also take a credit card, preferably one that's not close to its limit, and a debit card, if your bank's system works where you're going (many are global these days).
If English isn't the native language of your destination, take the time to learn at least a few phrases in the local tongue. People will appreciate the effort, and it's a way to begin submersing yourself in the place, rather than simply being a tourist.
Once You Arrive
Buy a 'pay as you go' mobile phone and keep credit on it. That way you and your family can communicate easily (use phone cards for international calls), and you can make emergency calls. Arrange a schedule to keep in touch with people at home, even if it's just quick e-mails from cyber cafes. If you're going to travel, let them know when and where you're going, and that you've arrived safely.
Learn where the embassy and consulates for your country are, and their phone numbers. You'll probably never need them, but safe is much better than sorry.
Staying mostly in one country? Investigate opening a bank account as a safe haven for your money. You won't have to worry about anyone ever stealing you traveller's cheques.
On the road, use common sense. There are plenty of places in the world where drinking tap water is a bad idea (and that includes ice cubes in drinks). Use bottled water, and imbibe plenty of it. And wonderful as those snacks from street vendors smell, think about how they might have been cooked. You don't have to live in a bubble, but don't take too many risks. Have a first aid kit with you, including antacid, antidiarrheal tablets. And keep a supply of condoms on hand
Try not to travel alone, if possible. Not only is it a basic rule of safety, but it makes the trip more fun. Beware of offers to show you rare sites or buy you a drink, and steer clear of unlicensed taxis all over the world.
A gap year can be one of the greatest experiences of your life, it is a chance to become part of another place and community. Grasp it with both hands - but keep your eyes open to enjoy it fully and safely
For more information about staying safe whilst on a Gap Year visit GreatGapYears.
You might also like...