Eastern Europe Travel Safety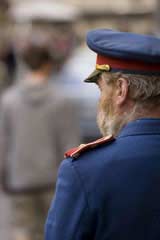 Eastern Europe caters to your every taste and desire. Whether you are a culture vulture, a foodie, a lover of the great outdoors or a spiritual searcher, there is something for everyone. But is safety, when travelling in Eastern Europe, a problem and what should you consider?
You should not encounter major problems of personal safety in Eastern Europe if you take the standard precautions one would take anywhere else in the world. Do pay attention though to the prevalence of pick-pocketing and minor thefts in public transport (e.g. crowded buses and trains) and in popular tourist areas, especially Prague and Budapest. Particular attention must be paid to gypsies who congregate and operate in groups.
Here are a few do's and don'ts on keeping safe whilst enjoying the holiday of a lifetime.
Immigration, Customs & Airports
Whilst immigration and customs facilities in Eastern Europe have greatly improved, be prepared for delays and some lingering bureaucracy. Make sure all visas are up-to date. Porters and luggage trolleys are not always available at airports and railway stations, so be prepared to carry your own luggage, often over long distances and, in the case of railway stations, up and down the stairs and in and out of trains. A portable luggage trolley or luggage with wheels is highly recommended. Understand also that your departure transfers are to railway stations or airport entrances only. Your drivers cannot assist you beyond this point.
Hotels and Security
Most Central / Eastern European hotels do not have air-conditioning (all have heating during winter months). In many hotels individual safety deposit boxes are available at reception for the safekeeping of your main documents (i.e. air tickets, passports, visas, etc.) but be warned, even they have been known to be accessed by others. A comfortable money wallet worn securely under your clothing at all times is highly recommended for carrying your valuables outside your hotel. Remember ladies, when walking around the streets, make sure your handbag is under your coat, or kept in front of you on the side away from the road - it's been known for people to drive by, snatch your handbag by pulling it off your shoulders or cutting the straps and drive off. Keep it close to your heart!
Seat Reservations & Transport
Unless you have specifically requested and prepaid for seat reservations, your rail tickets are without seat reservations. It is not necessary to hold a seat reservation as there are normally enough available seats. For certain trains - long distance, high-speed trains - seat reservations are compulsory and must be made prior to boarding the train. You may find public transport does not run as frequently as you are used to, and sometimes, not at all. Also be prepared to stand on buses.
Cash & Currency
Use international ATMs in each new city you visit. Euros can be exchanged in banks and hotels in major cities; be aware there can be high commission on Traveller's cheques applies. Before you leave home, set up an account online so you can track your spending; international transactions might take a few days to register on your statement. Whilst on the road, remember to log off properly in Internet cafes. You will find Eastern Europe cheap to visit, requiring a daily total of around £30 to £50.
The Euro is now the second major currency in Eastern Europe. You will often notice prices listed in Euros as well as local currency. Cash payment may also be made in Euros in shops, restaurants, taxis and market places.Weather: June, July, August and September are the warmest months to visit but global changes in weather have meant a later start to the skiing season; often decent snowfalls aren't recorded until January (or even February).
Languages, Customs & Conduct
Part of the wonder of Eastern Europe is its diversity of cultures and languages! Some people hope to find one magic language that'll get them through and in those countries that have loosened their ties to Russia - English is the chosen language. English is spreading, particularly amongst younger people, so head for the nearest gang of teenagers and ask them for the train station. Buy a useful phrasebook that covers up to a dozen Eastern European languages, and of course, a pen, paper and rudimentary sketching skills always prove that a picture is worth a thousand words. Good news for English-speaking travellers, and an important tip: while many people might understand your Russian questions anywhere from Estonia to Slovakia, most will be very reluctant to speak it.
Public etiquette is helpful to know. In Bulgaria people nod their heads up and down to say 'no'. Don't assume everyone understands English or will get it if you speak loudly. Learn 'Hello' and 'Goodbye' which are particularly useful in many countries where it's customary to greet the proprietor upon entering and leaving a shop, cafe or quiet bar. 'Thank you', 'Please', 'Sorry' and 'Do you speak English?' are always good. Watch local customs for hand and body gestures. Be careful about raising your fingers to order two beers; even with your palm facing the bar staff, it's rude in some countries and be prepared to give up your seat to the elderly or infirm.
What to Wear?
In winter you'll need a long, thick wind-proof coat, a hat with wind-flaps to guard against frostbite, gloves and scarf, and thermal underwear. In spring, summer and autumn come prepared for sudden chills and rain. You'll need a hat and a raincoat or light overcoat in autumn. In Moscow and St Petersburg you can dress casually for an evening out - although you may feel more comfortable in something smarter for evening and theatre. Modest clothing should be worn for visiting churches and mosques and possibly a head-scarf for women.
So, once having fortified yourself with these facts before you leave, you can go in the knowledge that you will experience an unforgettable holiday of a lifetime.
You might also like...