Staying Safe in South America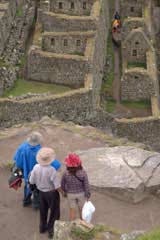 Most travellers to South America will find their trip to be enjoyable and the people to be warm and welcoming. As with all travel, however, it is important to prepare yourself in advance for differences in language, laws, and customs. Learning about and appreciating cultural diversity is one of the greatest advantages of foreign travel. By taking a little time to familiarize yourself with the way of life in South America, you will ensure a trip filled with happy memories.
Currency
South America is host to large, modern cities as well as ancient ruins. A well planned holiday to this area should include a little time to enjoy the breathtaking scenery, sample some magnificent culinary delights, and maybe do a little shopping. If you are staying in a metropolitan area, you will have no trouble exchanging your currency; if you plan to venture into the smaller towns, you should plan ahead by changing some of your cash in advance.
Language
More than half of South American residents speak Portuguese, with Spanish being the second most widely-understood language. The region is quite diverse, however, and many other languages, including Hindi, Dutch, English, and Quechua are widely used. If you have the time before your trip, you should familiarize yourself with at least a few useful phrases native to the area. Locating restaurants, lodging, bathroom facilities, and transportation will be a much simpler task if you do a little prep work.
Environment and Climate
A visit to the Andes Mountains would make for a wonderful holiday, but be aware of the precautions you'll need to take. Give your body time to adjust to the increased altitude by ascending gradually. If you notice that you are suffering from headaches, nausea, or insomnia, you have a case of altitude sickness. Most healthy people adjust fairly well, but if you have a pre-existing medical condition, take extra time to make your ascent. And be sure to pack some sunscreen--with an SPF factor of at least 30--exposure to UV rays increases not only as you near the equator, but also as altitude increases.
The climate in South America ranges from tropical in the north to temperate and sometimes even chilly as you travel further south. From Venezuela southward to about mid-Argentina, you can expect very hot and humid to comfortably warm temperatures. As you approach southern Chile and Argentina, expect significant drops in temperature, so dress accordingly.
Health
It's a good idea to make a quick visit to your doctor before heading to South America to be sure that your inoculations are up to date. You will probably need to be immunized against typhoid, hepatitis A, hepatitis B, tetanus-diphtheria, and measles. Be aware, also, that malaria still exists in the following areas of Argentina: Rural areas of Salta and Jujuy provinces (along the Bolivian border) and Misiones and Corrientes provinces (along the border of Paraguay) . If you plan to visit these areas, take extra precautions to protect yourself from mosquito bites.
Food and Drink
In all of South America, but in rural areas, especially, you need to be cautious about your consumption of food and water. Never buy food from street vendors; make every effort to eat at large restaurants or choose pre-packaged foods. Stick to bottled water and avoid both fountain drinks and ice cubes. Water and carbonated beverages from unopened cans or bottles are safe, but be aware that some less than scrupulous retailers have been known to refill bottles of water, so be sure that all bottles are factory sealed. Since access to fresh, clean water and soap may be limited in some areas, it would be wise to carry a bottle of hand sanitizer.
Many inland bodies of water in South America are heavily laden with potentially dangerous bacteria. If you choose to swim, try to do so in well chlorinated swimming pools, although if you choose to swim in natural waters, know that salt water is a safer choice than fresh water.
Rabies is still somewhat rampant in areas of South America, so do not handle any animals, especially monkeys, dogs, or cats. Unless properly treated immediately after being bitten by an animal carrying rabies, the disease is deadly in humans.
Most of us take quite a few pictures when we are on holiday in order to bore our friends with them upon our return. Be cautious about your picture taking in South America, however. The local authorities consider airports, police stations, military locations, oil installations, and harbors to be security-related. Tourists have had their film confiscated and have been detained for taking pictures at these locales. Photography of demonstrations or civil disturbances is also often prohibited. If you are unsure about whether you can take a picture, ask first.
You want to return from your holiday refreshed and invigorated. By being well prepared, you'll do just that!
You might also like...