Backpacking or Holidaying in India and the Himalayas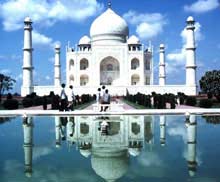 Travel to India and the Himalayas brings with it, its own unique safety considerations given that both areas are still developing and certain locations remain a somewhat unstable part of the world. Therefore, if you intend going on a walking holiday to India or trekking in the Himalayas which is why it's important to get hold of a reputable India travel guide or a guide for walking holidays in the Himalayas.
Coping with the Language
Foreign Languages in this area include Tibetan, Nepali, Hindi in India, and Urdu in Pakistan. For travelling purposes, English would be understood in major tourist areas but it would be useful to get one or two guidebooks in the foreign languages of Asia in the places you intend going if you are heading off the beaten track.
Currencies Used
Travelling in India and throughout other parts of Asia will bring you in contact with several different forms of currency. Many of these share the same name, such as the Uzbekistani Som and the Krygyz Som, or the Nepalese, Indian and Pakistani Rupee, but are all independent currencies. Also found in this region are the Turkmen Manat, the Tajik Somoni, the Kazak Tenge, the Afghani, and the Chinese Renminbi in Tibet. These currencies are rare for banks to hold in the West. Call your bank well in advance of your planned departure to ensure that they have time to order the currency for you to exchange.
Driving Abroad
Driving in Central Asia is not for the faint-hearted. Uzbekistan, Turkmenistan, Tajikistan, Kyrgystan, Kazakhstan, and Afghanistan all drive on the right side. In Nepal, India and Pakistan, driving is typically conducted on the left side of the road. In Tibet, as indeed could be said about much of Central Asia, the running joke is that you should just pick which side of the road you want to drive on! A good rule of thumb is to remember that you as the driver should always be sitting nearest to the middle of a two-way road. Vehicle maintenance requirements vary widely from country to country, as do road conditions and availability of rental cars. If you are planning to hire a car while away, attempt to secure a booking before leaving home.
Changes in Climate
With no large bodies of water to buffer it, Central Asia is open to severe temperature changes. A backpacking holiday across Central Asia will also reveal a variety of climates and geography that may make packing a challenge. From the mountains to the deserts to the grassy steppes, from the steamy monsoons of India to the freezing snowstorms of Nepal, Central Asia is an adventure traveller's dream. Just make sure you pack enough layers to keep you warm enough for wherever you might roam.
Things to Be Aware Of
Central Asia is a politically charged area. A "War on Terror" is raging in Afghanistan while the Nepalese are attempting to repel Chinese troops, and India and Pakistan have been known to fight over territory as well. If you are planning on travelling to any remote destinations, or to any areas known for violence, let your embassy know your itinerary.
Specific Safety Considerations
Health and safety precautions in Central Asia should be considered basic. Make sure you visit your doctor for any necessary travel vaccinations before your backpacking holiday. Bring with you plenty of your preferred over the counter medications that may not be available during your trip, including aspirin, cold medicine and medicine for diarrhoea.
Bottle water is a great way to get around local water supplies, and remember to make ice cubes and brush your teeth with bottled water as well. Avoid any puddles of standing water that may breed insects, and bring an antiseptic cream for any cuts or burns you might incur. When driving long distances, bring plenty of water and petrol, as well as some snacks. You never know when you might be able to stop again. Above all, bring a sense of humour, a sense of adventure and a smile!
You might also like...