Spain and Portugal Travel Safety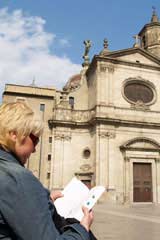 The Iberian Peninsula is one of Europe's great tourist destinations. Both Spain and Portugal have plenty to offer visitors, with everything from beaches to mountains, and plenty of sea and sand. With a more relaxed lifestyle, it's the perfect place for a holiday. However, knowing a few things beforehand can help you enjoy your trip even more.
Basics for Spain and Portugal
As with all of continental Europe, you drive on the right. Both countries have good motorway systems (Portugal especially), although you should be aware that many drivers don't keep to the posted speed limits - which, like all signage, is in kilometres. Wearing seat belts is compulsory. Trains and buses are good travel options; Spain, in particular, has an excellent, cheap bus system connecting cities.
The currency is the Euro, although don't be surprised if you still hear people talking about the old money, since it was only introduced in 2001.
For all emergences, dial 112, although you should never assume operators will speak English. Learning some simple phrases in Castilian Spanish (the main language of Spain, certainly outside the Basque region) or Portuguese will help you. As a visitor it's polite, and people appreciate it.
Your European mobile will work across Iberia, but be prepared for hefty roaming charges. These days every city has at least one cyber café, which might prove to be a cheaper way of staying in contact with home.
Both countries can be hot, with temperatures climbing into the mid 40s C in summer, so pack accordingly, including plenty of strong sun block. In higher elevations, though, nights can cool down, so take a fleece for the evenings. The current is 220v, so all European appliances will work there, with the appropriate plug adapters.
Afternoons aren't a good time to get anything done. After a late lunch, around 2pm, many businesses close for the traditional siesta period in the hottest part of the day reopening after 5. Dinner tends to be late, around 9p.m., so adjust your appetite accordingly.
Medicines are available at pharmacies, easily recognisable by the green cross outside. If you're from Europe, carry a valid EHIS card to have access to public hospitals. However, travel insurance is always a good idea, too.
Although crime rates are generally low, that doesn't mean you can be less cautious. Pickpockets operate frequently in crowds. Don't keep your wallet in your back pocket - a money belt under your clothes is the best idea. Women should carry handbags with a long strap worn across the body - and keep it zipped or closed. Keep a separate list of traveller's cheques and credit card numbers.
In Spain
Confusingly, Spain has four types of police. They can all help you, but in the event of theft, you should report the loss to the Policia Nacional, who deal with that.
You can take children into bars in Spain. They're busy places, often neighbourhood social centres, frequently serving tapas or snacks. Spanish wine is justifiably famous, but don't forget local sherry or beer. There's very little public drunkenness, though - in fact it's frowned upon. The laws on drink driving are strict, with a limit of 0.5g/L - the equivalent of one small beer.
Some of the best places to stay are the state-run paradors, or inns. Often located in historic buildings, they offer superb surroundings and very good value for money, especially when compared with private hotels.
A few things to watch out for: If you rent a car at Madrid airport, and a man asks you to help him change a flat tyre as you drive out, don't. Many people have been robbed that way. Also, only use taxis with visible fare tables; they're the only ones licensed as cabs.
Since the 2004 Madrid bombings, people have been more alert. Don't leave your luggage unattended. Be especially alert in the Basque region, which has an active, sometimes violent secessionist movement.
Portugal
Almost everything that applies to Spain is also valid in Portugal, although never forget that they're two separate countries and cultures, with long histories and memories. In spite of their apparent similarities, often the Portuguese have no love for the people next door.
Portugal is generally a safe country with a low crime rate, although you have to be more careful in the larger cities, especially Lisbon, which has many pickpockets. But you should watch out for the traffic, especially on the IP5 and the N125 (the main route to the touristy Algarve), which have frequently proved deadly.
As in Spain, the bars in Portugal are relaxed, and children are welcome. Although the Portuguese are among Europe's heaviest drinkers, you'll rarely see drunken public displays; like its neighbour, the country also has very strict drinking and driving laws.
Treat people with respect, use your common sense, and follow the advice here, and you'll have a wonderful time in Spain and Portugal.
So Good You Want Go Back?
Spain and Portugal are popular destinations for timeshares and second home owners. Combine their proximity to the UK and other Mainland European countries with the warm climate and you have an attractive location to visit time and time again.
Time shares are an appealing option, but there are many scams in operation that you need to be aware of; Safe from Scams has an informative article on timeshare scams in operation in the UK and abroad, with tips on how to avoid them.
You might also like...