Hot Climate Safety and Health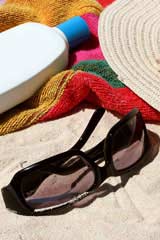 When you arrive at that hot destination and step off the plane, a wall of heavy heat seems to instantly slow you down. Each step takes more effort than the cold place you set off from. Your body has just gone into overdrive trying to cool itself down. A number of things can help you get the most from your travel to hot countries. The number one rule is to stay cool and hydrated. One of the first effects of dehydration is that you stop feeling thirsty. Take lots of water with you, don't rely on it being readily available. In places like the outback in Australia, as much as 10 litres per person per day are needed to stay hydrated. Don't underestimate how much you will need and remember to drink it.
Heat Exposure
Avoid over exertion in the heat. Stay out of the baking sun during the hottest part of the day from 10am to 4pm. Look for places where you will be able to stay cool either in the shade or in an air conditioned building. Dress comfortably in light clothing and wear a wide brimmed hat. Apply sunscreen protection factor [SPF] of at least 30 and reapply every 2 hours, especially if you are swimming.
Heat exhaustion manifests itself as lethargy and general weakness and/or urinating more often than usual, anxiety and/or excessive sweating. A weak pulse or pale damp skin are also signs to watch out for. If a person seems out of sorts or mildly disoriented make them sit down in the shade to cool down and give them sips of water. Rest and re-hydration should resolve heat exhaustion quickly. If symptoms persist seek medical assistance. Heat stroke is far more serious and can appear very suddenly. If someone has a headache or a high temperature, rapid pulse or hot, dry skin take them to the emergency room. If vomiting or loss of consciousness occurs get them there even quicker. Heat stroke is potentially fatal and should be dealt with promptly and expertly.
If you risk being stranded in potentially hostile, remote environments, be prepared to avoid heat exhaustion and stroke. Remember that water.
Food And Drink
It is quite common for travellers to suffer from diarrhoea for the first few days of a trip to a hot country. Diarrhoea medicines can help to reduce pain and cramps. Plenty of fluids and electrolytes will rehydrate you. Alcohol and caffeine will dehydrate you so don't drink too much and abstain completely if you are suffering from diarrhoea. Follow the same rules for food safety that you do in colder climates but remember that in temperatures of over 90F, food will last for less than one hour before it starts to spoil. Eat lighter meals and decline the offer of ice if you're not sure where it came from. If you're not sure about the water status, boil it continuously for one minute, or use water sterilization tablets. You may need more re-hydration at altitude and water should be boiled for longer above sea level. In general think about what you are going to ingest and where it came from. If in doubt don't eat or drink it.
Planning Ahead
If travelling to regions of the world where malaria is prevalent see your doctor 3 months before you leave. Many countries require evidence of vaccinations against TB, Tetanus, polio, Typhoid and Hepatitis A and others specific to the region you are travelling to. Take a well stocked first aid kit with you with antiseptic cream and insect repellent. Remember to pack any medicines you take regularly with you.
Transport
When travelling on trains and buses in hot weather, always take plenty of water with you. Try to take breaks wherever you can to get some fresh air. One of the most important things to remember is to never ever leave people unattended in the car. A parked car can heat up in minutes, to fatally hot temperatures. A number of fatal accidents where children were left in the car were a result of their caretakers 'forgetting' they left them there!
Travel safely, take lots of water, stay cool and don't forget the kids
You might also like...