Snow Safety: What to Do If Stranded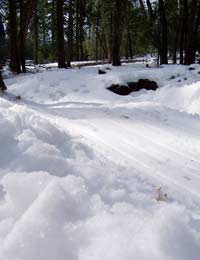 Snow is always beautiful to see and fun to play in, but it can easily turn deadly if you find yourself unprepared and stranded in it. When you know a storm is coming, stock up on supplies. Driving in the snow and finding yourself housebound in the snow present their own challenges, and if you are exposed to the elements there are still ways to stay safe until rescued.
Preparing for Winter Storms
Basic supplies to keep on hand, whether at home or in the car, during any winter include salt or grit to melt snow and snow shovels to help clear it out of your way. Stockpiling fuel to heat your house, practicing how to shut off the water (in case of burst pipes) and keeping a good supply of non-perishable food will all help you feel prepared for oncoming winter storms. Bottled water and first aid supplies, along with candles, matches and torches are important items to have to hand too. Ensuring all family members have a good winter jacket, hat, scarves, gloves and boots is also essential. Give your car a thorough check-up, including anti-freeze and oil levels, heater and defroster and of course emergency lights, and create a small emergency kit to keep with you including some food, water, blankets, a radio, shovel or scraper, torch and first aid kit.
Driving in Snow
Many drivers end up stranded when they are caught out by a snow storm. If you find yourself driving in a bad storm, try to stay on the main roads and avoid smaller roads or lesser known shortcuts. If you can no longer drive, try to pull off the road and turn your emergency lights on. Remain in your car. Run your heater for about 10 minutes of every hour to help you keep warm, but do crack a window slightly for proper ventilation. Bundle on your outdoor clothing, including wrapping a scarf around your mouth and nose. Every now and then exit the car to make sure the exhaust pipe is clear, but do not wander. If snow is very heavy, hold onto a rope that can direct you back to your car. If possible, keep your inside lights on at night so that you are visible to any rescue teams or work crews. If you are still stranded when the snow passes, and you feel confident in your knowledge of the area, then you may choose to lock your car and walk.
Housebound In Snow
You may find your house cut-off during a large snow storm, but this is no reason to panic. If you have prepared properly you should have plenty of food, water and fuel, not to mention light sources should the electricity cut out. Conserve your fuel as much as possible by gathering in one room and cutting off heat to others, as well as layering on warm clothes, gloves and hats if need be. Stay up to date on weather forecasts so that you know what you are facing. Keep your mobile phones or other devices charged for as long as possible and try not to over-use them and drain their batteries. If your pipes freeze, turn off the water supply, open hot water taps and thaw the pipes with a hair dryer or other heat source. When water is flowing again, close your taps. Most importantly, stay inside during the snow storm and clear snow slowly and with frequent breaks when the storm passes.
Exposed to the Elements
Being trapped outside during a snow storm is not a good situation in which to find yourself. Immediately cover your mouth and nose to protect your lungs from the cold air. Stay as dry as possible, removing wet clothing if you have that option. Pay particular attention to keeping your extremities warm, including your ears, nose, fingers and toes, as these are common places for frostbite to develop. Watch for signs of hypothermia, including a sleepy feeling, slurred speech, memory problems and general disorientation. Seek shelter if you can, or dig a small cave into deep snow in order to provide yourself some protection. Melt snow to drink, but try not to eat it. If possible, hang some sort of warning sign (a scarf, a shirt, a message spelled out in rocks or tape) near your temporary shelter for rescue or work crews to find.
You might also like...