Protect your Money when Travelling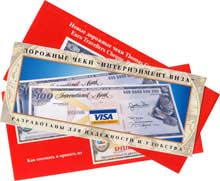 Travelling can be one of life's great pleasures. But if you're away and have your money stolen, it can quickly turn into a nightmare. However, a few simple precautions can ensure you don't find yourself in desperate straits.
Preparations
You can do a great deal to safeguard yourself even before you leave home. Buy traveller's cheques in the currency of the countries you're visiting, and record the serial numbers. Likewise, make a note of the numbers of the credit cards you'll be taking with you (along with the phone numbers to report their loss). Make copies, leaving one with a trusted friend or relative at home, and carry the other with you when you go - obviously in a secure place, separate from cheques and money. Don't take a cheque book; credit and debit cards are more widely accepted, and it's one less item that might be stolen.
Consider paying for your accommodation in advance. In these days of Internet booking, you'll probably get a better room rate - and you're guaranteed somewhere to stay in the event your money is taken.
Finally, invest in a money belt to wear under your clothes. Access might be a little awkward, but it's the safest way of carrying your valuables.
Once You're There
Most hotels have safes, either in the rooms or behind the main desk. Use them. Never leave anything important in sight, and make certain your room is locked (including the windows) every time you leave it, even if you're only gone for a few seconds.
Don't carry more cash than you need. Convert traveller's cheques on a daily basis, at a bank or accredited exchange, not on the black market, and use credit cards for larger purchases. Don't carry a wallet in the back pocket of your trousers or jeans; that's simply an invitation to pickpockets. Women, wear your handbags strapped across your body, instead of on one shoulder to avoid snatching. Of course, you should never leave your bags or packages unattended.
Use your common sense when walking around and avoid making yourself an obvious target. Keep clear of dark, empty streets at night. Stay near groups of people if you can. In the event you're mugged, don't resist. Nothing is worth your life.
If you are unlucky enough to be a victim, don't panic. Inform the police, so there's a crime report on file. Then call your credit card and traveller's cheque companies. In most instances your money and cards will be replaced within 24 hours, and you won't be liable for any charges to your card.
Using Money Abroad
Foreign currency can be a minefield. Trying to mentally convert prices into your own money is laborious, and the simple act of paying for something, especially with unfamiliar coins, can be frustrating. But remain aware of how much you're giving and always check your change; unsuspecting, harassed tourists can easily become an extra source of income for unscrupulous shop clerks. Try to avoid using high denomination notes for small purchases if possible.
In a number of countries the advertised price of an item isn't necessarily what you'll pay. For some cultures, especially in Africa and the Middle East, bartering and haggling is part of a transaction. You probably won't beat the seller all the way down, but at least you'll emerge satisfied, feeling like you've earned your bargain
Should you tip when abroad? It depends where you are. In the U.S., for example, adding 15-20% to the restaurant bill is standard. But throughout most of Europe the service charge is included (with the exception of Spain and Italy). Most taxi drivers will be happy with an extra 10%, and always give a little something to the hotel porters who carry your bags.
Now you're ready to enjoy your time away. The chances are that, like most people, you'll have absolutely no problems with your money on holiday. But it's worth taking those few extra steps to guarantee you'll have no worries.
You might also like...