Air Travel: Inflight Safety and Security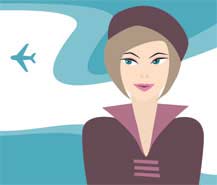 Once you're on the plane, you can relax and let the flight attendants take over. After all, that's their job. But there are some things they can't take care of, you can, however. A few simple ideas can make your trip a lot easier and healthier.
Health on Board
Travel sickness affects large numbers of people. Many different solutions are touted, from magnetic bracelets to New Age therapy. There are a variety of tablets for motion sickness which are available over the counter. Just make sure you follow the prescribed dosage.
On long-haul flights, some people face the possibility of Deep Vein Thrombosis (DVT), a blood clot that can form in the legs and move to the lungs. Good support hose can help, as can elastic bandages. If you're having a problem, talk to the flight attendant who can help you find a place to elevate the leg and apply heat. Additionally, don't sit for too long. Get up and move around the cabin.
Swollen feet are commonplace. A good strategy is to remove your shoes once you're settled, or at least loosen the laces. That allows for easier circulation. Again, standing and walking around the cabin periodically will help.
Airline magazines contain a few exercises you can do on the flight. Following them can stop cramps and muscle aches, as well as back pain from extended journeys. They can also break up the inevitable boredom inflight!
If your flight lasts more than four hours, most airlines will offer complimentary drinks, and usually a meal. But be very careful with alcohol. It may be free, but don't over-indulge. Even a little on board, where it's easy to dehydrate, can easily cause a hangover which can ruin your enjoyment of the flight. The easiest solution is to stick to non-alcoholic drinks, including plenty of water, even on short flights. You'll arrive refreshed instead of tired.
The Problem with Jetlag
Jetlag is probably the biggest menace in air travel. It's essentially the disruption of your body clock, which happens when you cross time zones - some experts believe it takes a day of recovery for each zone. Insomnia, headaches, irritability, a lack of concentration and dry eyes and throat are among the many possible symptoms. Older people seem to suffer more than younger, and it can be worse if you fly at night.
There's no shortage of remedies available. How effective they are, though, is a matter of conjecture. But you can do some things to at least lessen the problems of jetlag. Not drinking alcohol on board is a start. If you're a business person, don't schedule any meetings for the day you land. Set your watch to local time, and try and live on a local schedule. Make sure you take some exercise and expose yourself to as much daylight as possible, even if it's only through a window; natural light is an excellent cue for the body. You might still end up tossing and turning in the middle of the night. Even so, don't sleep in. Try and adjust to local time as quickly as you can.
Security Awareness
In the wake of September 11, air travel and security has become a major issue. In the airport watch your luggage at all times, for instance. But there's also personal security onboard to consider - namely, looking after your valuables. Never leave them in your carry on luggage under your seat or in the overhead compartment. Just because you're inflight it doesn't mean everything's safe. Keep your passport, cash, traveller's cheques and everything else important on you at all times. A money belt under your clothes is the best option.
When you leave, ensure you have everything with you. A quick "idiot check" is a good idea - once you've cleared immigration and customs it's a lot harder to go back for something!
You might also like...