Air Travel During Pregnancy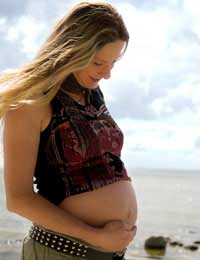 Air travel is usually considered safe during a pregnancy up until about the eight month or 32 weeks. This is just a generalisation however, and pregnant women should always speak to their health professionals prior to flying in order to find out if they have any specific restrictions. During the boarding process, take advantage of pre-boarding procedures and during the flight do some basic "exercise" to promote circulation and make sure you stay hydrated.
Speaking With A Health Professional
Before flying, pregnant women should speak with their GP or midwife and explain their travel plans. Give details of:
The length of flight (in hours)
How many flights will be taken and how close together
A health professional may give specific instructions for in flight activities and some may advise against flying if you have a condition such as severe anaemia, a clotting disorder or placental insufficiency which could make flying dangerous. Depending on which stage of pregnancy you're at, an airline may also require a doctor's note. If you fly frequently, whether as a passenger, cabin crew or pilot, should also let your GP know in case the cosmic radiation levels at altitude are deemed a threat to the foetus.
Take Advantage of Pre-Boarding
Many airlines offer several minutes of "pre-boarding" prior to a flight and invite those travelling with small children or with limited mobility to take advantage of this less hectic time to find their seats. Pregnant women who find their mobility impeded (particularly in the second half of a pregnancy) may want to take advantage of this time. Not only will you feel less rushed, but with fewer people around there is also less risk of being jostled or involved in an accident.
Exercises To Promote Circulation
When flying during pregnancy, take great care to "exercise" and promote circulation. There is a risk of deep vein thrombosis (DVT) so keeping your feet and hands moving and get up every 30 minutes or so to walk around the cabin (when allowed), flexing the feet, circling the ankles and bending from the knees .
Stay Hydrated
Dehydration often leads to fatigue. Since many pregnant women find themselves fatigued anyway, staying hydrated during a flight is imperative to fight against the dehydrating effects of a low humidity plane cabin. Water is the best option for pregnant women while flying and should be consumed throughout the duration of the flight, not just with meals. Fruit juices and teas may also help hydrate, though sugary soft drinks should be avoided.
Follow General Safety Procedures
Like all other passengers, pregnant women should follow the general airline safety procedures to ensure a safe and comfortable flight. Wearing a seat belt (under the abdomen) at all times and holding onto seat-backs if standing or walking are two very easy ways to stay safe. Ask a member of cabin crew to lift your bag from the overhead luggage compartment.
You might also like...