Train Travel Safety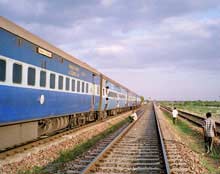 A lot of people criticise train travel, and say it's not what it used to be. But it can still be a fast, often inexpensive form of transport, not only between cities, but between countries. Like anything else, though, you need to think a little to keep yourself safe in the station and on the train. However, by putting a few simple rules into practice, you can ensure a pleasant, trouble-free journey.
At The Station
Pay attention to the timetables. They can often change without warning, and trains can be delayed. Stay on the main concourse or in the waiting room until it is close to the time for your train. Not only will it be warmer than a draughty platform, with more people around, it'll be safer. Try never to be alone on a platform, especially at night. These days all stations are equipped with CCTV, but it's better not to take chances.
Keep your luggage with you at all times in the station. That might seem obvious, but all too often people walk away to check something, return and find their belongings stolen. All your important papers and cash should be kept on you, and should be secure. A wallet in a back pocket can quickly become a pickpocket's target. Women should make sure their handbags are closed or zipped, and if the strap allows, carry them across your body. Finally, if you see unattended luggage, or anything that might seem suspicious, report it immediately.
On The Train
Most trains these days feature extended coaches. Sit in one where there are other people (likewise, if your train has compartments, don't sit alone). Whenever possible, stow your luggage on the rack above your seat, where you can keep it close. If your case is too big, use the luggage rack at the end of the coach, but first remove anything important or valuable.
Never try and open the outside doors when the train is moving. That's especially true if you're travelling with children. Don't allow them to wander unaccompanied on the train at any time, even to the buffet cart.
If you leave your seat for any reason, always take all your valuables with you. Taking every piece of luggage if you need the toilet might be impractical, but at least you can safeguard the really important items. The advice about pickpockets is just as valid on board, too; don't assume you're safe once the train starts moving. Safeguard purses and wallets at all times. That's especially true if you're crossing international borders where you'll have to present your passport. Also, make sure your ticket is readily accessible. There's nothing worse than having to dig through everything when the conductor arrives!
Leaving
Be sure you take everything with you. Be particularly careful when alighting from the train, especially if you have a large piece of luggage; the step down can be awkward and dangerous, especially for the elderly.
Outside the station, be aware of your surroundings, especially at night. Walk on busy, well-lit streets. If you're being met, wait in an area with good lighting and plenty of people.
Taxi ranks can always be found directly outside the station. Always use one from there, a proper licensed vehicle rather than a minicab, whose fares could turn out be a nasty, expensive surprise.
Follow these tips, and your train journey should be as smooth and pleasant as the timetable allows.
You might also like...